Things You'll Need
1/2 yard of patterned material

1/2 yard of solid material, matching the patterned material

Scissors

Sewing pins

Sewing machine

Spool of thread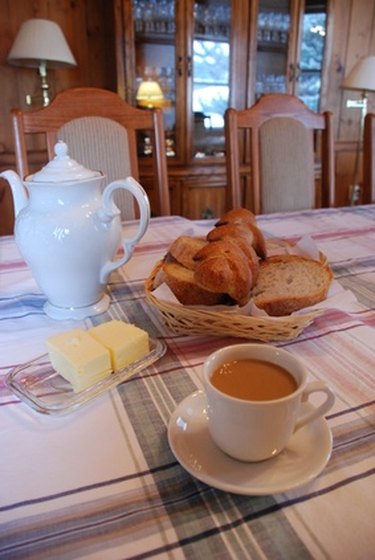 Instead of using a simple liner or towel for bread baskets or containers, sew your own at home. Select one solid fabric and one patterned, striped or printed fabric to make a double-sided bread cloth. These bread cloths are not only functional, they also add to your table-top decor. When you're finished and ready to use your homemade bread cloth in your basket or container, one fabric shows on the outside while the inside reveals a surprise pattern or print.
Step 1
Cut out four 18-inch squares from your material. This makes two bread cloths for a bread basket having a 10-inch diameter base. If you have a larger bread basket or wish for a different size, measure the diameter of the basket (base) and double that number; this provides enough fabric to cover the bread.
Step 2
Place the right sides of two squares together. Fabric backing should face the outside.
Step 3
Stitch around the edges and leave a 5-inch opening at one corner. The opening will allow you to turn the fabric right side out for a clean hem.
Step 4
Turn the fabric inside out by pushing the fabric through the 5-inch hole. Fully push out the corners by carefully using your scissor tips.
Step 5
Turn in the unsewn edges left by the 5-inch opening (enough to match the existing edges) and secure them with sewing pins.
Step 6
Iron the edges flat and remove the sewing pins.
Step 7
Stitch a top stitch around all edges, beginning with the 5-inch hole to secure the opening. Turn the cloth over and repeat on the other side.
Step 8
Place your bread cloth in the bread basket. Put the bread inside when ready to use, and fold the extra fabric over to cover the bread.
Step 9
Continue with the second bread cloth, following the same steps.
Tip
This "How To" may also be used to make cloth dinner napkins. Make some and add them to your bread cloths for a matching set.