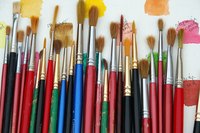 Acrylic paint is a quick-drying water-based paint used for many painting or art projects. If left unattended or not properly sealed, acrylic paint can dry up and become difficult to use. Acrylic paint can be diluted using water or a fluid additive to loosen the paint and return it to its original consistency. As opposed to oil-based paint, acrylic paint is used to resemble watercolor paints and lasts longer.
Things You'll Need
Dilute your acrylic paint using a small amount of water. Apply a small amount of water to your paintbrush and use the brush to stir and mix the paint. Continue to add small amounts of water until the acrylic paint returns to its original consistency.
Mix a fluid additive into the acrylic paint. Dilute the paint by adding a small amount of fluid additive to the acrylic paint. Stir the fluid additive with the acrylic paint using a paintbrush. Add and mix the fluid additive as necessary, using only a small amount at a time, until the paint returns to its original viscosity.
Use a palette knife to stir and mix acrylic paint that has not fully solidified yet. Add a small amount of water and stir the paint using a grinding motion to free up any hardened areas in the paint. Stir the paint until it reaches your desired texture.