Things You'll Need
Newspaper or drop cloth

Paint stick designed for use with a 5-gallon bucket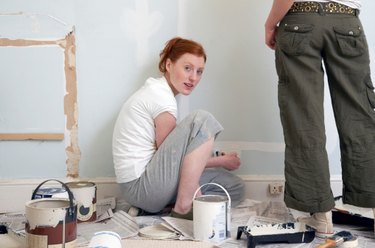 Painters often find 5-gallon buckets indispensable for large and small projects alike. Professional contractors frequently purchase 5-gallon buckets of paint to use on major jobs, while homeowners can mix several smaller cans of paint together in a bucket to create a single, smooth color. However, the paint can easily separate and settle when you're using such large amounts. Stirring a 5-gallon bucket of paint requires a specific technique to ensure even color throughout and prevent undue strain on your arms.
Step 1
Situate the 5-gallon bucket on top of spread-out newspaper or a drop cloth.
Step 2
Lower a heavy paint stick designed for use in a 5-gallon bucket into the bucket, scraping it along one edge of the bucket. Allow the tip of the stick to touch the bottom of the bucket.
Step 3
Drag the stick around the outer rim of the bucket, moving very slowly. Pull the stick upwards as you move around the perimeter of the bucket -- the idea is to draw the paint on the bottom of the can up to the top. Time your movements so that the bottom of the stick reaches the top of the paint when you return to your original starting point.
Step 4
Drive the stick back to the bottom of the bucket at the starting point. Continue stirring the paint slowly until it achieves a uniform color.
Tip
Pulling the stick completely out of the paint can make it splatter. Leave the tip of the stick just underneath the surface of the paint to minimize the mess.
You can use a paddle in place of a strong painting stick.