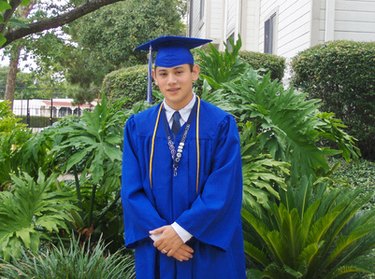 After your son has spent more than a dozen years of his life in school, the least you can do is throw him a graduation party to celebrate his achievements as he completes high school. Focus all aspects of the party around his interests, tastes, accomplishments and future goals. Start planning the graduation party a couple months in advance so you have plenty of time to get all the details in order and send out invitations.
Step 1
Set a time and date for the party. It should occur on the same weekend as graduation, but it does not have to be immediately following the ceremony. Make it a drop-in open house so guests can leave to go to another graduation party at the same time, if necessary.
Step 2
Make an invitation that lists the time, date and location of the party. It should have a heading that says something like, "Join us in celebrating John's graduation!" Send invitations to family, family friends and your son's friends.
Step 3
Decorate for the party with items that are meaningful for the graduate. If he played on a sports team in high school, use decorations related to that sport and awards that he won. If he is planning to attend a specific university in the fall, decorate with school pennants and colors.
Step 4
Prepare food for the party. Boys have huge appetites, so plan to have plenty of your son's favorite foods. Some ideas include chips, salsa, guacamole, cheese dip, tacos, pizza and grilled vegetables.
Step 5
Create a poster collage with photos of your son from birth through graduation. Focus on his major achievements and leave out anything that might embarrass him if his friends saw it. Include sports photos, school awards, vacations and photos with friends and family members.
Step 6
Make a trivia quiz about your son's time in school. Questions could include: who his fifth grade teacher was; what he said in kindergarten when asked what he wanted to be when he grew up; how many AP classes he took his senior year; and what after-school activity was his favorite. Let guests each fill out a quiz at their leisure and give a prize to whoever gets the most correct answers.