Things You'll Need
Tape measure

Pencil

Stud finder

Level

Ledger board

Corbels

Long screws; exact length depends on the corbel

Screwdriver

Material for counter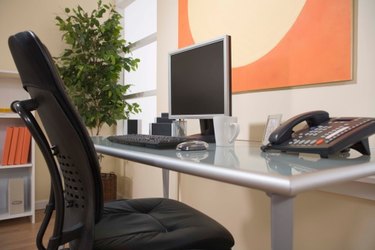 Counter space is valuable. A length of counter is like an additional table in a room. If the area under the counter is open, then you can pull up a chair or bar stool and use the counter for an office, for breakfast or as an art center. A counter can be mounted to a wall or to the side of a cabinet to create usable space inexpensively and quickly. It is a good idea to match your new counter with the colors and style of the room where you are placing it.
Step 1
Measure the wall area where you want to mount the counter. Determine if the counter should be the standard 36 inches or bar-height 42 inches. If the counter will be used as an extension of an existing counter, it usually will be standard height. Draw a horizontal line on the wall at the height you choose, and make sure it's level.
Step 2
Move a stud finder along the pencil line and mark the location of each stud. In general, you will want to mount a corbel within 4 inches of each end and at least every 4 feet of counter length. A corbel is a triangular bracket or projection that is mounted to the wall and the counter to support the counter.
Step 3
Mark the location where each corbel will be mounted. Measure down from your horizontal line a distance equal to the thickness of your counter, and position the corbel so that the top is at that point. Screw through the corbel into the stud, using long screws and a screwdriver.
Step 4
Cut and position ledger boards between the corbels and level with their top edge. Use wall anchors when you are unable to screw into studs.
Step 5
Position the counter piece centered over the corbels and ledgers. Measure the distance through the bottom of the ledger or corbel into the plywood support on the underside of the counter. Apply construction adhesive to the top of the corbels and ledgers. Screw through the ledger or corbel into the underside of the counter. If your counter is granite, you should have plywood underneath the granite. Screw the corbel and ledgers to the plywood and then glue the granite to the plywood.
Tip
Consider adding a backsplash if your wall is not perfectly straight. Caulk along the wall-to-counter seam to cover the gap.