Things You'll Need
Measuring cup

Spray bottle or bowl

Spoon (if needed)

Iron (if needed)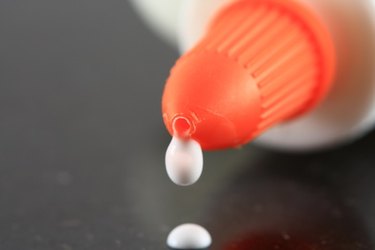 Elmer's glue has been available to consumers since 1947. The ever popular white glue was originally made from cow hooves, but has been reformulated to include only synthetic materials. The materials used to make Elmer's glue are derived from petroleum, natural gas and other natural compounds. Elmer's glue has been used for a variety of crafting purposes and is frequently used as a starch or stiffener in crochet. Elmer's homemade "starch" can be used on clothing. However, once it dries, it is not water soluble anymore. Washing it will most likely not remove the glue.
Step 1
Measure equal parts of Elmer's glue and water using the measuring cup. The glue will wash out of the cup if you wash it right away in hot water.
Step 2
Pour the mixture in a spray bottle and shake it well or stir it in a bowl.
Step 3
Apply the starch to the item you desire by dipping or spraying it. Allow it to dry.
Tip
If using for laundry purposes, a hot iron will set the starch, but residue may be left on the iron. If this happens, add more water until you have the desired stiffness you are aiming for without sticking to the iron.