Things You'll Need
Nonabrasive scrub pad

Nail polish remover or acetone

Glass window cleaner spray

Paper towels

Razor blade scraping tool (optional)

Hair dryer (optional)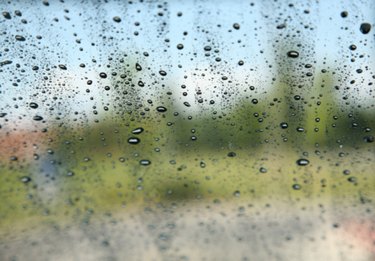 When glass water sealants turn a window milky white, visibility decreases and the sealant must be removed. Sealants protect glass from mineral deposits and help wick away beading water. House and car window glass are the two most common places where water sealants are used. The removal of the sealant involves the use of a solvent and a nonabrasive scrub pad. Once the sealant has been removed, the window glass can be cleaned with regular glass cleaner.
Step 1
Hold a nonabrasive scrub pad over the top of a bottle of nail polish remover.
Step 2
Tilt the bottle until liquid gets on the scrub pad.
Step 3
Scrub the window with the pad until the sealant comes off.
Step 4
Spray the glass with window glass cleaner and then wipe with paper towels.
Tip
A sharp razor blade scraping tool can be used on tough water sealants. Soften the sealant with a hairdryer and then scrape it off.
Warning
Nail polish remover or acetone vapors may cause nausea or lightheadedness. Razor blades should only be used, if necessary, because they can void window warranties.