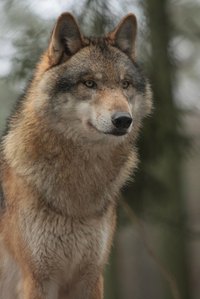 Carving a wolf hiking staff is a creative way to both decorate a useful item and put your artistic skills to the test. The typical wood walking stick or hiking staff is between 5 and 6 feet long, depending on the comfort and height of the hiker. Carvers usually make walking sticks from a sturdy wood that is not too heavy or bulky, such as walnut or pine.
Things You'll Need
Pine or walnut stick
Wolf design
Regular transfer paper
6 to 12 inches of sticky transfer paper
Wood-carving tool kit with gouge and scraper
Carving knife
Safety gloves
Preparation
Draw, cut out or print a wolf design to carve.
Trace the wolf pattern onto the regular transfer paper.
Trace the wolf pattern from the regular transfer paper onto the sticky transfer paper. Peel off the back of the sticky transfer paper and adhere it to the area of the hiking staff that you plan to carve. Rub your hand over the top of the sticky transfer paper to generate enough heat so that the wolf design gets transferred onto the wood. Go over the design with a pencil or pen if necessary. Peel the sticky transfer paper off the wood.
Carving
Cut out the inside thicker wolf face using a small- to medium-sized gouging tool and wood-carving knives.
Cut out the outer fine lines of the fur and ear area using thin carving knives. Gouge out the ear area with a small- to medium-sized gouging tool.
Go back over the face and outside areas as necessary to enhance the carved design and add depth. Using the sides of a larger wood scraper, smooth out sharp edges on the carved wolf design so that they blend in smoothly and don't have jagged or sharp corners.
Finish carving the wolf in the hiking staff by adding fine details with smaller gouges and knives. Repeat the smoothing and blending process as described in Step 3 to finish the carving project.