Things You'll Need
Fabric

Scissors

Thread

Measuring tape

Sewing pins

Sewing machine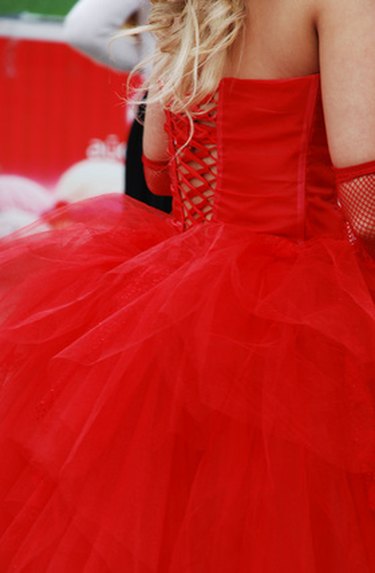 While one usually thinks of an hourglass figure when considering a corset today, in the sixteenth century, ladies were looking to flatten out their torso. Corsets are often worn as undergarments, either for erotic purposes or as body shapers, but they can also be seen as a featured design in a wedding dress. Lacing your corset with hooks and gauntlets requires an experienced seamstress. However, even a novice at the sewing machine can outfit her corset with fabric loops.
Step 1
Measure the height of the corset where you want to add the fabric loops. Double that measurement to get the length of the fabric you will need to cut out to make the fabric loops.
Step 2
Measure out the fabric you are using for the loops. Cut two strips of fabric at a width of two to three inches.
Step 3
Fold the edges of the fabric, lengthwise, inward on both sides, then fold the fabric again.
Step 4
Pin the fabric down and sew the edge of the fabric to secure it in place.
Step 5
Pin the fabric strips to the inside of the corset. Pin the strips flat along the edge of the corset for a couple inches, then leave a few inches of fabric loose. Pin the fabric along the edge of the corset again for a couple inches. Continue this process until you have reached the bottom of the edge of the corset.
Step 6
Adjust the fabric loops so that they are even and have the aesthetic effect you are looking for. Smaller fabric loops will minimize the lacework, whereas larger fabric loops would become a highlight of the corset design.
Step 7
Sew the straps to the edge of the corset, being sure to reinforce where the loops meet and leave the edges.
Step 8
Cut off any excess fabric and thread from the bottom of the corset.
Tip
Use a sturdy fabric that has little or no elastic in it for maximum strength.
Use the tightest tension as possible when sewing the loops to the corset.