Things You'll Need
Measuring tape

Graph paper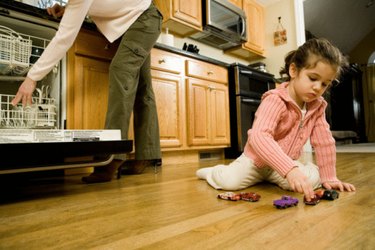 A raised-ranch kitchen is typically small and L-shaped, due to the fact that the house has an entrance foyer. The foyer with steps leading up to the raised-level main floor takes up a lot of the floor space in most cases. You will enter a standard raised ranch house, ascend a few steps to the main level and view the living and kitchen space as one. Focus on creating a slightly bigger kitchen or using the basic kitchen layout "footprint" that's in place. The remodel poses identical challenges for any small kitchen that is close to living space.
Step 1
Measure the existing kitchen and use graph paper and those dimensions to draw a floor plan. Draw each wall facade in detail on graph paper as well. Use these measurements to make decisions on changing appliances and other fixtures. Look at options to see if using the basic footprint already in place will work for the remodel. Pull in a few extra square feet of space from an adjoining bedroom or hallway, if this is practical.
Step 2
Design the sink wall first. Begin with the sink to plan the basic kitchen triangle, consisting of the sink, stove and refrigerator; locate these three components a few steps from each other. Plan to add a deeper sink with a high curved faucet to wash large pots. Add cabinets to the left and right of the sink to hold dishes coming out of the dishwasher. Build a wall to screen kitchen activity from living space, if they are combined.
Step 3
Add floor-to-ceiling cabinets on one wall. Save floor space in any kitchen, especially in a small L-shaped kitchen, by using every square inch of a single wall for cabinets. Install a pantry cabinet with double doors and glide-out shelves to hold canned goods and dry goods. Plan this wall for cabinets to look appropriate with the main living area, if it is just a few steps away.
Step 4
Use light colors to make the kitchen appear larger. Buy light-colored cabinets, appliances and accessories. Use white, beige, stainless steel and other light-color surfaces to make the typical small kitchen of a raised ranch seem bigger. Install white cabinets or paint existing cabinets white, for example. Lay porcelain ceramic floor tiles in pale gold or use light oak hardwood flooring. Use white or stainless steel appliances.
Step 5
Plan the remodel in stages. Start at the ceiling level. Paint the ceiling space and add recessed lighting. Paint walls and add new cabinets in the next stage. Install the sink and appliances after that. Get everything in place before laying the floor last, so you won't scratch the flooring during the remodel.
Tip
If your raised ranch home has limited floor space in the living-kitchen area, build a dividing wall just 4 feet high between the two spaces. This way, you can hide clutter and dirty dishes during cleanup, but the open area above the wall will provide more light and space than a solid wall would allow.