Things You'll Need
Hat

Flexible measuring tape

Horse hair (usually tail strands)

Scissors

Embroidery cord

Clear glue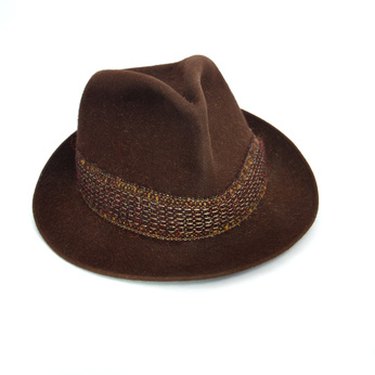 Hat bands can turn an ordinary or dated hat into an entirely new accessory. If you want to change it up without trading up, try weaving your own hatband. Some hatbands are simple cord, but horsehair bands give your hat a touch of shine and visual interest. Plus, you can weave a horsehair hatband all on your own.
Step 1
Measure around the base of the crown of your hat. Add about 4 inches to this measurement and cut your horsehair hank accordingly. For instance, a hat with a 15-inch crown requires a hank of horsehair about 19 inches long.
Step 2
Lay your hank out on a flat work surface. Try to keep all of the hairs as even as possible. To help, tie a piece of embroidery thread around the center of the hank.
Step 3
Gently flatten one end of the hank with your palm. Separate the ends of the hank into six equal sections.
Step 4
Weave a piece of embroidery cord over and under the ends of the sections, working to the left, then back to the right. When you've completed three or four rows, smear the rows with a little glue and pull the ends of the cord tight. This tugs the end of the hank into a neat, woven cylinder.
Step 5
Tie off the embroidery thread and cut the ends as close to the knot as possible. Add a drop or two of clear glue to prevent loosening.
Step 6
Remove the embroidery thread from the center of the hank. Separate the hank into six separate sections. They are sections A to F from left to right.
Step 7
Bring section A over sections B and C, laying it right next to section D. Bring section F over E and D and cross it over section A. Continue bringing the outside sections to the center this way until you have about 1 inch left.
Step 8
Weave and tie up this end of your hatband just as you did with the other in steps 4 and 5. Wrap the band around the crown of your hat. Cross the woven ends over each other. Adjust the band so it looks jaunty and stylish to you. Add a drop or two of glue to the crossed ends and press. Allow the glue to dry overnight.
Tip
Create several bands for one hat, one for each occasion. Since the bands aren't glued to the hat, you can lift them off of the hat and slide another on in seconds.