Things You'll Need
2-inch by 2-inch or 2 by 4 stakes

Plywood or wood planks

Tape measure

Builders square

Circular saw

Screwgun

Galvanized screws (optional)

Carriage bolts and nuts (optional)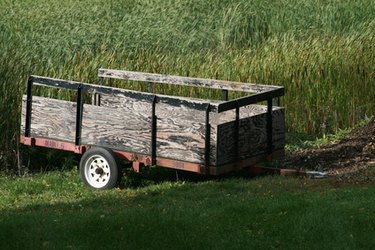 Flatbed trailers come in a variety of sizes, from giants pulled by highway tractors to small ones to move lawn tractors and garden materials. Many have wood decks and rear gates that fold down for a loading ramp. Some are all metal with sides 8-12 inches high and a tailgate that does not form a ramp. It is possible to add stake sides to either style. Most wood-decked utility trailers have stake holders welded on the sides; metal-decked trailers have holes in the top of the side framing. These accomodate 2-inch by 4-inch or 2 by 2 stakes.
Put Stake Sides on a Utility Trailer
Step 1
Determine what sort of stakeholders your trailer has. Adding stake sides to a utility trailer can be a very simple and basic woodworking task or it can involve some welding and metalworking. It depends on the design of the trailer. Most flatbed trailers have 2-inch by 4-inch brackets welded to the sides, but flatbed styles with short metal sides may have 2 by 2-inch holes, like the bed sides of a pickup truck. There should be at least four openings, two on each side, more for longer trailers.
Step 2
Decide the kind of siding you want, plywood, cut to width, or 1-inch by 6-inch wood planks. Planks are the more usual option for trailers longer than 8 feet. Cut 2 by 4 or 2 by 2 stakes 6 inches longer than the height of your sides; if you're making 12-inch sides, make stakes 18 inches. Cut your siding boards to length (and width, if you use plywood). Then lay out your stakes with the covering on top and screw the covering to the stakes with galvanized screws or drill holes and fasten with carriage bolts and nuts. Use a square to make sure stakes and siding are square.
Step 3
Fit your stake sides into the side brackets or holes in the bed sides. Your stakes should extend well into the brackets or holes, with the siding flush against the trailer. If you will be hauling heavy loads that put pressure on the side panels, drill holes in the brackets and screw the panels in securely.
Step 4
Use metal stakes as an alternative. You can weld metal stakes along the sides of the flatbed trailer, then screw wood panels into them in pre-drilled holes. Or you can use metal stakes to fit into the existing brackets or holes. Metal stakes usually are an option for sides that will not be removed often. Wood-stake sides are easy to put on and take off.
Tip
Slightly taper the bottoms of your stakes to make installation of sides easier.