Things You'll Need
Digitizing software

Memory stick or card

Digitizing tablet with a pen

Embroidery machine

Embroidery thread

Fabric

Stabilizer

Thread trimming scissors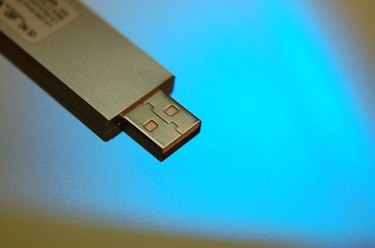 Embroidery digitizing is a process of converting images from a graphic to a stitching format that is transferred to an embroidery machine and stitched automatically by the machine. Learning digitizing software is challenging. It requires computer skills, knowledge of embroidery materials, such as fabrics, threads and stabilizers, and a good grasp of the embroidery equipment. If you are determined to learn embroidery digitizing, you have a few options to do so.
Step 1
Buy embroidery digitizing software. If you already have an embroidery machine, buy software from the same manufacturer, such as Janome Customizer or Brother PE-Design. You will have fewer questions and problems if software is designed for the machine, and compatibility will make your learning process easier. Visit the manufacturer's website. Most have online digitizing classes on how to use their software. You also can buy software not affiliated with any embroidery equipment brand, such as Embird.
Step 2
Find local sewing machine distributors. They may offer digitizing classes. If not, they should be able to give you information where in your area to find classes.
Step 3
Use a software manual. Software companies provide instructions on a CD or DVD and brochure. Reading a 200-page manual and comparing your screen to provided screenshots may seem overwhelming, but this is one of the best ways to learn. Start with basics and learn the software in small portions.
Step 4
Join a discussion group on Yahoo or Google. You will be surprised how helpful they can be. Embroidery fans are passionate about their art form. They willingly share their knowledge and experience and effectively learn from each other. When choosing a discussion group on the Internet, check how active the group is. Look for a group with a lot of activities, where many members keep discussions active, questions are always answered, mini tutorials are published online and photo galleries of members' work are presented.
Step 5
Embroider every design you digitize to see what areas of your digitizing need improvement. The design may look great on a screen, but, when you embroider it, you can get a different picture. For instance, if you did not perfect the order of connection stitches, which connect different parts of the design, they may pool the fabric and distort the design. Learn not only how to digitize, but also how to digitize for different types of fabrics, stabilizers and threads. Practice, practice, practice.