Things You'll Need
Liquid smoke

Steaks

Basting brush

Glass baking dish

Plastic wrap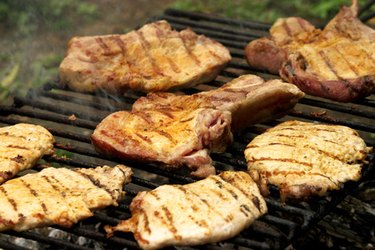 Liquid smoke is a very popular flavor and color enhancer used in cooking steak and other meats. Liquid smoke is created by smoldering hardwoods in a controlled environment, then passing the smoke through a cooling system which causes the smoke to liquefy. In addition to enhancing flavor, liquid smoke can extend the shelf life of many foods by acting as a natural bactericide. Applying liquid smoke to steaks is a very common practice, is very simple and can intensely enhance the flavor of the meat.
Liquid Smoke Marinade
Step 1
Place the steaks into a glass baking dish.
Step 2
Pour 4 ounces of any flavor liquid smoke over the steaks.
Step 3
Turn the steaks once to ensure the liquid smoke covers them.
Step 4
Cover the glass baking dish with plastic wrap.
Step 5
Place the steaks into the refrigerator and chill overnight. The steaks will be seasoned and ready to cook the following day.
Applying Liquid Smoke While Cooking Steaks
Step 1
Begin cooking the steaks any way you like. Liquid smoke can be used on the grill, stove, oven or any other method you choose.
Step 2
While cooking, apply a small amount of liquid smoke to both sides of the steak using a basting brush.
Step 3
Brush the steaks with liquid smoke as many times as you like. Liquid smoke has a powerful and, when overused, overpowering flavor. Apply a small amount of liquid smoke at first then apply more to taste.
Tip
Liquid smoke can be found in many different flavors of "smoke" such as hickory, apple, pecan and more. Sample these flavors on different types of meat to find your favorites.