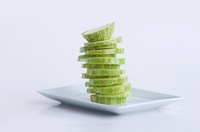 Although most people automatically think of the dark green zucchini most often seen in supermarkets, there are actually several varieties of zucchini, including white zucchini. Contrary to its name, white zucchini is actually a pale green color and just several inches long. They are simple to cook with, being interchangeable with any recipe that calls for zucchini, and tender enough to be diced or sliced. Sauteed white zucchini is a quick and simple side dish, perfect for serving alongside any main course.
Things You'll Need
1 tbsp. olive oil
2 garlic cloves, minced
3 shallots, chopped
Wash the zucchini with warm water to rid it of dirt. Sometimes zucchini skins hold onto dirt and grime so use a soft scrub brush if necessary. After washing, dry with a paper towel.
Cut the stem off the end, and slice the zucchini into 1/4-inch slices. No need to peel the zucchini since the skin is tender and able to be eaten. Use a very sharp knife or a mandolin for the slicing.
Heat 1 tbsp. olive oil and two cloves of minced garlic in a saute pan over medium heat. Once you can smell the garlic, add the zucchini slices and three chopped shallots to the pan and saute for five to six minutes, or until the zucchini becomes soft and slightly translucent.
Sprinkle the zucchini with salt and pepper, according to taste. Continue sauteing for one to two more minutes then remove from the heat and serve.