Things You'll Need
Leather pieces

Leather-working needle

Heavy-duty thread

Sewing machine

Sewing tape

Sharp razor

Closure such as a snap or buckle

Lining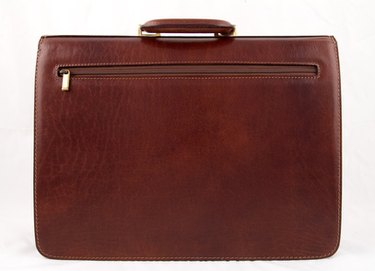 Leather is waterproof, durable, fashionable, comfortable and can carry heavy loads. You can make a leather duffle bag on your own as a thoughtful gift for someone or to carry your own things in. Either way, making it yourself allows you to customize the size of the bag, the kind of leather you use and details such as the type of closure used for the bag.
Step 1
Select the type and color of leather you want to use and purchase the leather from a fabric or hobby store.
Step 2
Use your razor to cut the leather pieces. You'll need: one flap; two front and back sides; one gusset for the duffle's bottom; one strap. To be safe while cutting your strap, overestimate the length; you can always cut it shorter later if needed. Use a straight edge to help you cut straight lines with your razor.
Step 3
Use seam tape to adhere one edge of the gusset to the front piece. You want the correct sides of the leather pieces to be facing inward — correct side meaning the side you want to be showing on the outside of the bag when it's finished. Then use heavy-duty thread to sew the two pieces together. Remove the seam tape as you sew along.
Step 4
Repeat Step 3 for the back side of the bag.
Step 5
Use seam tape to join the side edges of the front and back pieces of your bag and sew the side edges together using heavy-duty thread. Remove the tape as you sew.
Step 6
Turn your bag inside out so that the correct side of the leather faces outward.
Step 7
Use a strip of seam tape to affix the flap of the bag to the upper edge of the back piece. Adhere the closures to the inside of your flap.
Step 8
Fold the leather piece you made for the strap in half and secure with seam tape, incorrect sides facing each other. Sew the halves together.
Step 9
Crop the seams on your strap and cut off excess length if necessary.
Step 10
Pin either end of your strap to either side of your duffle and stitch. Cut off extra thread.
Step 11
Sew on any desired pockets. Cut the front and back pieces out of lining fabric. Pin the pieces together with the correct sides facing each other. Stitch the bottom and side seams, leaving a gap at the top so it can be a pocket. Hem the top edge. Repeat this for as many pockets as desired and attach them to your duffle bag's lining.
Step 12
Repeat the steps you took for the leather shell of the bag now for the lining. Hem the upper edge. Sew the upper edge of the lining to the upper edge of your leather exterior. Cut off extra thread. Use a binding stitch on the upper edge of your leather to complete your duffle bag.