Things You'll Need
Tent

Tarp

Towel

Oscillating fan

Plastic drop cloths

Sandpaper

Cloth

Paintbrush

Rollers

Sponge brush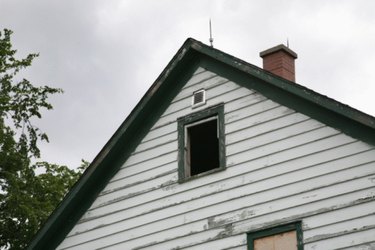 For best results, wood should always be painted in a well-ventilated space and given ample time to dry. Because of this, in most cases advice for painting wood in the rain could be summed up in one step: "Don''t do it." However, this might not always be an option. For example, if you are painting a fence outdoors and are limited on time, you may need to finish the project even in inclement weather. There are some things to keep in mind if undergoing a project like this.
Step 1
Cover your surface for painting. If possible, bring the wood to a covered outdoor area for drying and painting. If this is not possible, you will need to cover the wood with a large tarp. A collapsible tent can be used to cover the wood, or you can use stakes and tent poles to mount the tarp in place. Covering will keep as much moisture off the wood as possible.
Step 2
If the wood has already been exposed to rain, it needs to dried before you paint, prime or sand it. Dry the wood with a towel to remove as much moisture as possible. Position an oscillating fan facing the wood to remove more water. Protect any electrical cords or outlets with plastic dropcloth or tarps to prevent electrocution.
Step 3
Prepare the surface of the wood for painting. Once the wood is dry or close to dry, you can begin sanding the wood with sandpaper. Sanding the wood not only removes any imperfections in the wood, it better prepares it for the paint to adhere. Wipe away any dust created from sanding with a dry cloth. If the wood is too wet to sand, the dust will clump. Continue to dry the wood before continuing if this happens.
Step 4
Paint or stain the wood following the direction of the grain. Ordinary paintbrushes or rollers can be used to apply your paint. You can also use sponge brushes to better control how much paint you place on the surface of the wood. Because of the moisture in the air, use thin, even layers. Use only paints that are designed for exterior use if this is for an outdoor building project.
Step 5
Protect the wood while it dries. Removing the protective covering too quickly will cause your paint to run and look thin and patchy when it dries. If possible, keep the fan positioned at the wood throughout the drying process, between 12 and 48 hours.