Things You'll Need
Bucket

Soap

Scrub brush

Sponge

Hose

Painter's masking tape

Newspaper or drop cloth

Oil-based primer for metal

Paint thinner

Stir stick

Flat paintbrush with natural bristles

Acrylic latex exterior house paint

Flat paintbrush with synthetic bristles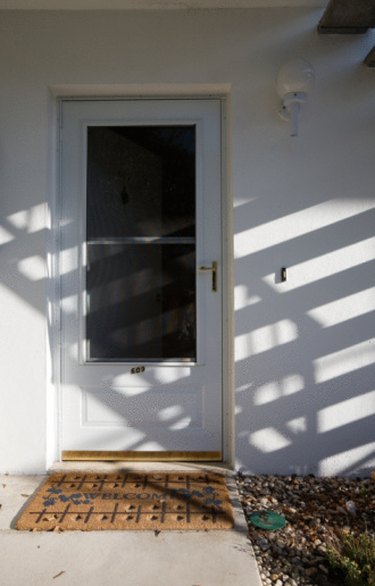 All of the exterior elements of your house combine to create curb appeal. Don't let an old, unsightly aluminum screen door destroy your home's otherwise attractive appearance. Painting your door to match the rest of your trim will help it blend in. Besides using the appropriate products and following the correct procedures, outdoor paint jobs require the right weather. Ideal temperatures are in the 70 degree range. Work in the shade, as bright sunlight can cause the paint to dry too quickly.
Step 1
Combine soap and water in a bucket. Adding an ounce of soap to a few gallons of water is sufficient. Wash the screen door with a scrub brush and a sponge. Remove as much dirt and powdery paint as possible. Spray the door with a hose, starting at the top and working your way down. Let the door dry.
Step 2
Cover the ground around the door with newspaper or a drop cloth. Make sure that the threshold is protected from paint spatters as well.
Step 3
Place a strip of tape around the outside of the door. Put tape on the edge of the screen as well. Do not paint the screen, as paint will clog the mesh.
Step 4
Pour primer in a bucket. Add a pint of paint thinner for every gallon of primer. Mix the two together with a stir stick.
Step 5
Brush the primer on your door with a flat brush with natural bristles. Start painting at the top of the door. This way you will catch any drips as you tackle the area underneath. Allow the primer to dry overnight.
Step 6
Paint your finish coat with a synthetic-bristle brush. Keep brushstrokes smooth. Two even coats of paint are better than a single, thick coat.
Step 7
Carefully remove the tape. Take care not to peel off any of the paint in the process.
Tip
Get your primer tinted at the paint store. Ideally, it should be a lighter version of your finish paint.