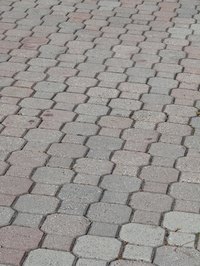 Masons use muriatic acid to remove stains from stone, concrete or brick pavers. Muriatic acid, sometimes also referred to as hydrochloric acid, is a strong acidic solution that you can use safely when you dilute it. Always use the proper precautions when cleaning pavers with hydrochloric acid, as it can burn your eyes and skin and can cause issues if it gets into your lungs. Keep it away from children and pets and never pour it into your drain.
Things You'll Need
Muriatic acid
Scrubbing brush
Put on gloves, goggles and a dust mask. Wear long sleeves, pants and shoes that will protect your skin from contact with the acidic cleaner.
Pour 5 cups water into a bucket. Pour ½ cup muriatic acid into the water. Always pour muriatic acid into water, to avoid splashing the concentrated solution on yourself.
Dip a brush into the mixture and scrub the pavers until the solution completely covers them.
Let the muriatic acid sit on the pavers for at least 10 minutes. This will give it time to loosen stains.
Scrub the pavers to remove all of the dirt and debris.
Rinse the pavers with clear water from your hose. Let them air dry completely.