Things You'll Need
Baking dish

Aluminum foil

Plastic wrap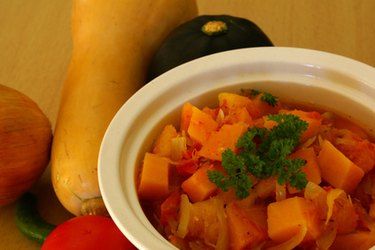 Life can get hectic, and deciding what to cook for dinner is one stress that can be eliminated by freezing meals. Casseroles are easy to prepare and can be frozen for up to three months. It saves energy and stress, and can even save you money. Double your recipes and freeze ahead several casseroles to free up an entire week. This method of cooking allows you more time to spend with your family, and saves on dishwashing after dinner.
Step 1
Line your baking dish with enough foil to hang over two sides of the dish. Lightly grease the foil and spread the casserole ingredients into the dish. Place the casserole dish into a preheated oven.
Step 2
Take the casserole from the oven ten minutes earlier than the recipe calls for, because it will finish cooking during reheating. Let the casserole cool completely. Securely wrap the top of the dish with plastic wrap and place it into the freezer.
Step 3
Let the casserole freeze long enough to hold its shape. Take the dish from the freezer, remove the plastic wrap, and grab the foil sides to remove the casserole from its dish. Wrap the entire casserole in plastic wrap, then wrap that package in foil, and then put it back in the freezer.