Things You'll Need
Measuring tape

Garment

Pins

Scissors

Sewing machine

Thread

Hand-sewing needle

Iron

Ironing board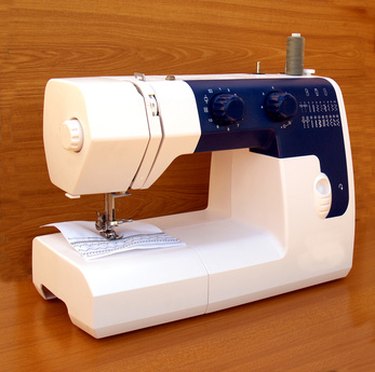 Flexi-lace hem tape is the name the Wrights company gives to a narrow strip of stretchy lace used to help create an almost invisible hem in pant legs or skirts. Other manufacturers will use different names, but this lace tape is a valuable tool for the professional or amateur seamstress who wants the best results possible in their hemming projects. Although the hem tape can look intimidating to work with, it is quite simple to use.
Step 1
Choose the right color and amount of hem tape. Flexi-lace hem tape comes in a variety of colors, so choose one that best matches the fabric you want to hem. You can find the hem tape at any fabric or craft store. Measure the edge of fabric you wish to hem before buying your Flexi-lace tape so you can be sure to buy enough of the right color the first time you go to the store.
Step 2
Pin the tape in place and stitch. Pin one side of the Flexi-lace tape to the right side of your fabric, taking care to line up the lengthwise center of the Flexi-lace to the edge of the fabric. Machine-stitch the hem tape in place with the seam as close to the center of the overlapping fabric/tape as possible.
Step 3
Hem the garment. Measure how big you need your garment hem to be and fold the bottom fabric up. Pin in place. Hand stitch with either a blind hem stitch or blind catch stitch for near invisibility on the outside of the garment. Iron smooth, and add any other finishing touches you need to complete before the garment is ready to be worn.