Things You'll Need
Broom

Professional painter's tape

Heavy duty fabric drop cloths

Latex primer

Measuring cup

5-gallon bucket

Roller frame

Roller extension pole

2 nap roller covers

3-inch polyester paintbrush

Latex paint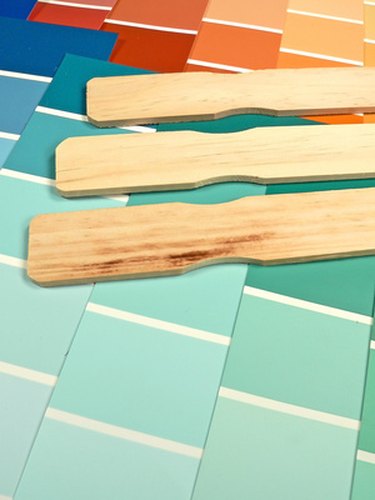 Homasote is a type of cellulose-based fiber wall board. Because Homasote is made from recycled paper, it is prone to excessive absorption. This often results in poor coverage, leading to the need for several coats of paint. Even after multiple coats of paint are applied, sometimes streaks may appear in the finish. Combat this problem by diluting the primer prior to application. This will ease the finishing process and encourage even, thorough coverage.
Step 1
Dust the Homasote with a broom.
Step 2
Protect areas beside the Homasote, using tape and drop cloths.
Step 3
Dilute the primer by adding two ounces of water to each gallon within a 5-gallon bucket. Thoroughly stir the diluted primer for three minutes.
Step 4
Coat the cellulose based fiber wall board with two thin coats of primer, using your roller. Roll up and down, moving to your right. Wait two hours between coats. Allow the final coat of primer to dry for two hours.
Step 5
Rinse the roller and brush with running water.
Step 6
Paint the cellulose based fiber wall board just as you primed it. Don't dilute the paint. Allow the Homasote to dry for two hours.
Warning
Don't paint unprimed cellulose based fiber wall board, or peeling will result.
Diluting the primer helps promote coverage by thoroughly saturating the Homasote prior to painting. If you choose to skip this step, you may require multiple coats of paint.