Rubber stamps are commercially available in a number of shapes and sizes for crafting purposes. Ordinary rubber stamps can be used to embellish and personalize plain ceramic mugs. Instead of using a traditional ink pad, rubber stamping on ceramic mugs utilizes special paint to create a permanent, waterproof design on the surface of the cup. Rubber stamping ceramic mugs requires little in the way of skill or materials, but necessitates a time investment of at least two days.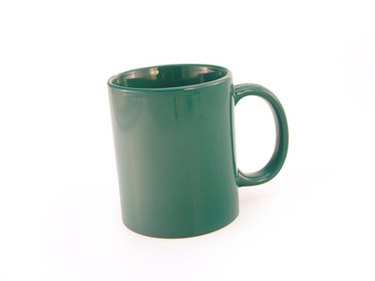 Things You'll Need
Mug

Clear Acrylic Sealer

Cloth

Acrylic Enamel Paint

Oven

Rubbing Alcohol

Foam Paint Brush

Rubber Stamp
Step 1
Clean the surface of the mug. Dampen a clean, lint-free cloth with rubbing alcohol and rub the surface of the mug with the alcohol. Rubbing alcohol removes grease and oils from the mug's surface without leaving behind residue.
Step 2
Apply acrylic enamel paint to your rubber stamp. Dip a foam paint brush in the paint. Swab the paint in a thin layer over the rubber stamp's design.
Step 3
Position the rubber stamp over the surface of the mug where you would like the design situated.
Step 4
Press down on the rubber stamp, rocking the stamp to one side to distribute the design evenly over the curved surface of the mug. Do not rock back and forth. Rock the stamp only to one side after you have pressed the stamp to the mug's surface.
Step 5
Allow the mug to dry. One dry, place the mug in a cool oven. Turn the oven on to 300 degrees F. Do not preheat the oven. Doing so causes a disparity in temperatures that could cause the mug to crack.
Step 6
Bake your mug for about 30 minutes. This cures the paint on the mug, sealing it to the ceramic surface.
Step 7
Turn off the oven and allow the ceramic mug to cool inside. Remove the mug once it has cooled to room temperature.
Step 8
Spray the cooled ceramic mug with a clear acrylic sealer. This gives the mug a shiny surface and protects the rubber stamped design. Hold the sealer spray can 6 inches to 12 inches away from the surface of the mug. Spray from one side to the other in one fluid motion.
Step 9
Allow the ceramic mug to dry. Spray on another coat of clear acrylic sealant. Allow the mug to dry again and apply a third coat of sealant.
Step 10
Let the mug cure for one to two days. Wash the mug before using it.
Tip
Although mugs rubber-stamped in this fashion are dishwasher safe, washing your mug by hand with mild soap without abrasives preserves the design.