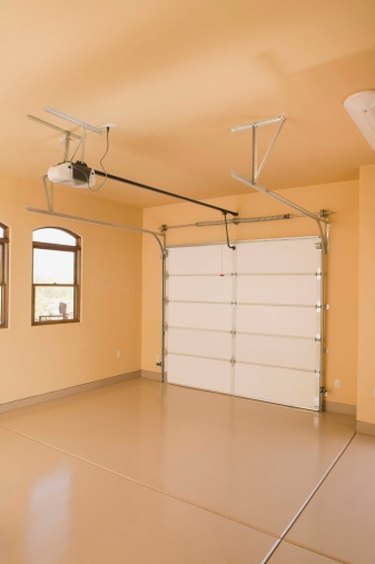 Craftsman is a Sears-owned home improvement and power tool brand. The company makes a range of tools, do-it-yourself products and garage door opener mechanisms available exclusively at Sears department stores. If you experience problems with your Craftsman garage door remote, you can run through a troubleshooting checklist to identify the cause and try to solve the issue. Troubleshooting your Craftsman garage door remote will take roughly 10 minutes.
Step 1
Replace the remote control's battery if the remote does not appear to function at all. To access the battery, pry open the bottom of the remote with a screwdriver or visor clip. Insert new batteries positive (+) side up.
Step 2
Make sure you are in range of the garage door when you press the remote control. Craftsman remote controls have a limited range and will not work if large objects like buildings and trees are blocking the "open" signal. Press the remote when you are close to your garage. Metal sided garages, foil insulation and certain metal garage doors can reduce the remote's range.
Step 3
Ensure the remote is properly located in your car. Place the antenna on the sun visor or another convenient location near the front of your vehicle. Be sure to extend the remote antenna on the opener to its fullest extent if you experience problems with reduced range.
Step 4
Make sure the garage door opener has power. Test the outlet, plugging in a lamp or another appliance into the same outlet. If the outlet does not work, check your home fuses and circuit breakers. Make sure the outlet is switched on if your home has on/off switches fitted to its outlets.
Step 5
Confirm the door lock feature is switched off. Push and hold the "Lock" button on the indoor control panel for 2 seconds to deactivate. The lock feature prevents all remote controls from opening the garage for increased security.
Step 6
Check the garage door is not frozen to the ground. Craftsman acknowledges that during extremely cold weather, snow and ice build-up can stick the door to the ground. Shovel away snow and ice to unfreeze the door.