Things You'll Need
Small marquee tents

Jewel-toned scarves and drapery

Persian carpets

Jewel-toned pillows and poufs

Hookahs

Jewel-toned candles (varying sizes and heights)

Moroccan-style lanterns

Moroccan serving tagines

Arabic tea services

Belly dancers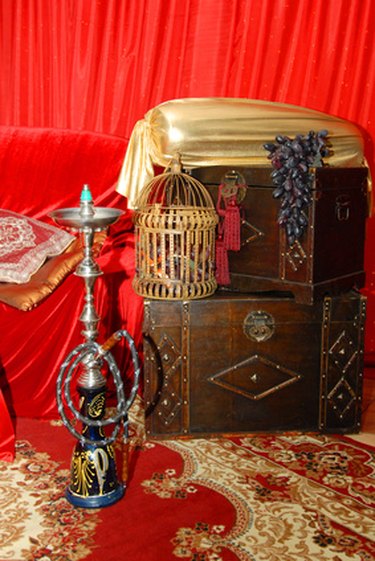 The best Arabian parties provide an exotic mix of mystery, sensuality and tradition worthy of lasting one thousand and one nights. Research the rich history and culture of Arab countries, such as Morocco and Saudi Arabia, and Scheherazade's Arabian Nights tales to add an authentic depth to the event. Serve traditional foods, such as hummus and couscous, play alluring Arabian music and create luxurious niches to lure guests into lounging like sheiks in their harems.
Step 1
Set up small marquee tents as lounge areas around the perimeter of the event space. Embellish the interior and exterior of the tents with drapery swags and scarves. Lay Persian carpets down inside the tents, then fill them with piles of embroidered, silk pillows and Moroccan-style poufs.
Step 2
Place a hookah on the middle of every table as an authentic centerpiece. Embellish each hookah with an assortment of taper, pillar and tea candles to illuminate the tables. Suspend Moroccan lanterns inside the marquee tents and above the dance floor for a lighting solution with an authentic touch.
Step 3
Serve a sit-down meal of spicy, traditional Arabic cuisine from authentic tagine, a Moroccan serving pot. Finish the meal with authentically-prepared Arabic tea and coffee from Arabian-style tea services.
Step 4
Hire belly dancers to put on a show during dinner, then mingle amongst the guests once the dancing begins. Ask the dancers to give belly dancing lessons on the floor and impromptu performances for guests lounging in the tents to add ambiance and energy to the event.