Things You'll Need
Plastic beads

9-inch round cake pan

Aluminum foil

4-inch round oven safe bowl

Cookie sheet

Oven mitt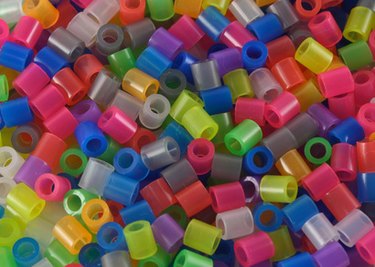 Holed plastic cylinder beads are the best type of beads to use when making bowls. Plastic cylinder beads melt when heat is applied and are a uniform size, so they will melt at the same time. The more beads you use, the larger your bowl will be. This is an excellent project for using up beads leftover from another project.
Step 1
Preheat the oven to 300 degrees Fahrenheit. Line the inside of the 9-inch cake pan with aluminum foil.
Step 2
Pour the beads into the bottom of the cake pan. You can arrange them in a pattern or just let them fall randomly. Shake the pan gently to distribute the beads into a single layer.
Step 3
Place the pan in the oven and cook for 25 minutes, or until all of the beads melt. Remove the pan and let the beads cool completely.
Step 4
Cover the bowl with aluminum foil. Place the bowl with the opening side down on top of the cookie sheet.
Step 5
Remove the melted beads from the cake pan. They will have melted and cooled into a flat, circular disk.
Step 6
Place the melted bead disk on top of the inverted bowl. Place the cookie sheet in the oven.
Step 7
Cook for five minutes and then turn on the oven light. When the bead disk begins to soften and melt, remove the cookie sheet from the oven. The bead disk will be easy to manipulate while it is soft.
Step 8
Put on the oven mitt and use it to gently pat the disk into shape around the bowl. When you are happy with the way it looks, let it cool. If you need to, you can place the bowl back in the oven to reheat and reshape.
Step 9
Remove the cooled bead bowl from the aluminum foil covered bowl. Use your finished bead bowl as desired.
Tip
Use oven-proof nesting bowls to make a set of beaded bowls using this technique.
Use these directions to make bowls from vinyl records as well as beads.
Warning
Don't use beads that are not plastic, they will not melt in a home oven.
Don't use beads that are many different shapes and sizes, they will not melt evenly.