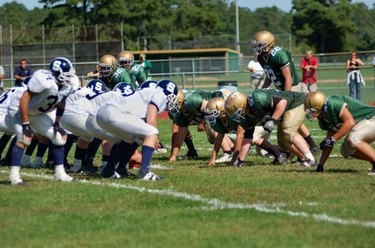 Every year, young people in high schools and colleges across America make memories as part of their schools' homecoming courts. Homecoming is an exciting time when students get involved in making floats, playing in or cheering on their classmates at football games, and decorating for as well as enjoying a homecoming dance. Before the dance, students elect their classmates as kings and queens of their homecoming courts. The king and queen sometimes make a short acceptance speech at the dance, at halftime of the homecoming football game or at the end of a parade.
Step 1
Find out exactly how long you have to speak. Find out where you will be speaking, when and to whom. Ask your school administrators or the student homecoming community whether alumni will be present.
Step 2
Think about your audience. If it includes alumni as well as students, deliver a timely message that addresses both groups, as well as parents, if they often attend homecoming parades and football games.
Step 3
Craft a short introduction in which you thank your peers for electing you as homecoming king or queen. Mention the members of the homecoming planning committee by name and thank them for their work and leadership.
Step 4
Think of one main topic to address in your speech. Consider themes such as hard work, the power of volunteering, optimism, involvement or the future. Select a theme that resonates with you and strive to be genuine in your speech. Choose a quote by a famous alumnus, student leader, popular teacher or political figure such as a president or member of Congress and incorporate it into your remarks.
Step 5
Write an outline of your speech with the topic centered at the top of the page. Next to the topic, include the total number of minutes you have been given to speak. Write "Introduction" on the first line; skip a few lines and write "1," "2" and possibly "3" for two or three main points you want to make about your topic. Skip a few lines in between each number and below the last number, followed by the word "Conclusion." Next to each word and number, write the number of minutes you will spend on that segment. Spend 20 percent of your time on the introduction, 20 percent on the conclusion, and divide the remaining 60 percent evenly among your numbered points.
Step 6
Think of which point into which you want to incorporate a quote, and add "(Name) Quote" beneath that number. State the main idea of each point in one or two sentences next to each number. Use your conclusion to review your points and issue final, general thanks to everyone who made homecoming possible.
Step 7
Walk away from your speech and think about the ideas you've outlined for a few hours or a day. Sometimes listening to music or having conversations with others will spark ideas for additional content.
Step 8
Return to your speech and write or type out, word for word, what you want to say. Read the speech aloud a few times, refining and editing during each reading. Time yourself after the third or fourth read-through. Cut content where necessary to keep your speech within your allotted time frame.
Step 9
Keep rehearsing your speech and refining your notes until you are thoroughly comfortable delivering it. Consider whether you want your entire speech with you when you give it or just a note card with your basic points. Speaking from a podium is more conducive to reading through a speech; standing in front of a microphone (or holding one) will require you to give your speech from notes. Give your speech from memory if you are comfortable with public speaking and can deliver it completely, without flaws, from memory at least three times while practicing at home.
Tip
While practicing your speech, focus on eliminating extraneous or "empty" words from your speech, such as "ah" and "um." Every time you hear yourself say one of these words, start over from the beginning.