Things You'll Need
Brush

Ammonia

Gloves

Cloths

Toothbrush

Linseed oil

Turpentine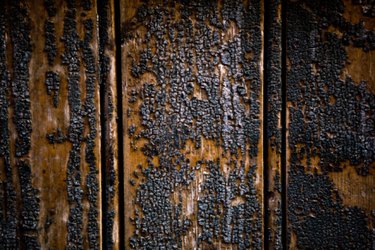 Fires can be a devastating event that can destroy family pictures, memories and livelihoods. In some cases, you can salvage items in your home that have been affected by the fire. This includes wood furniture that is still intact but that is covered in soot and char. Use care when cleaning it and do not attempt to clean furniture that is not longer stable enough to be useful. In most cases, wood will have been broken down too much and cleaning it will not restore strength.
Step 1
Remove any drawers or components to the furniture that are easily removable.
Step 2
Brush the entire wood surface with a dry, soft-bristled brush. This will remove loose dust and soot.
Step 3
Mix 1 cup ammonia with 1 cup water.
Step 4
Put on gloves to protect your hands from the drying and irritating effects of ammonia. Open the windows to ventilate your work area.
Step 5
Dip a cloth into the mixture and wring it out so that it is damp but not dripping wet.
Step 6
Rub the cloth over the entire surface of the piece of wood furniture and any components. Reapply the cleaning solution as needed.
Step 7
Dip a toothbrush into the cleaning solution and brush crevices and areas that still are stained with soot and debris.
Step 8
Mix 1 gallon of hot water with 2 tbsp. turpentine and 4 tbsp. linseed oil. Use the hottest water that your hands can handle.
Step 9
Dip a cloth into the solution and apply it to the piece of furniture. The hot water and turpentine will remove any residue from the fire and the linseed oil will condition the wood.
Step 10
Wipe the entire surface with a cloth dampened in clear water.
Step 11
Dry the surface completely with a clean cloth.
Warning
Never dry wood furniture out in the sun as this might cause it to warp.