Things You'll Need
Fettuccine, vermicelli

Water

Salt

Assorted vegetables for stir fry/soup

Chicken stock

Beef

Soy sauce

Colander

Sauce pan

Frying pan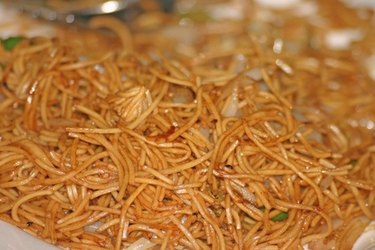 Chinese noodles are made from rice flour or wheat. Recipes that call for rice flour noodles will taste just as good if vermicelli, linguine or fettuccine are used instead, while those using wheat noodles can be made with fettuccine or spaghetti.
Using Pasta Fettucine in Chow Mein
Step 1
Add 4 to 6 qt. of water into a saucepan and place over heat till it comes to the boil. Add 2 tsp. of salt to the water. Put the fettuccine in the saucepan and keep stirring to prevent sticking for about 5 minutes or until they are tender. Alternatively, if you prefer thin noodles, use vermicelli. Drain.
Step 2
Heat oil in a frying pan or wok. Add vegetables and keep stirring for 3 to 5 minutes.
Step 3
Stir in soy sauce or any other stir-fry sauce you desire. When the sauce is simmering, add the noodles and stir well for a couple of minutes.
Using Linguine for Beef Rice Noodle Soup
Step 1
Repeat step 1 of the above section. If you don't have linguine available, you can use spaghetti or vermicelli.
Step 2
Heat oil in a sauce pan and add strips of beef. Add onions when the beef has browned.
Step 3
Add chicken stock and flour when the onions are tender. Turn the heat to low and allow to simmer for 5 minutes before adding the linguine. Simmer for a further 3 to 5 minutes. Remove from the heat and dish into bowls.
Tip
If you're buying fresh pasta, ensure it is fresh by checking the noodles aren't sticky or brittle. Fresh egg pasta can be kept for 3 or 4 days in the refrigerator or for 1 month in the freezer. Dried pasta can be kept pretty much indefinitely. Be careful not to overcook, as noodles can quickly turn to mush. Never cover the sauce pan you are boiling your pasta in so that pasta cooks evenly.