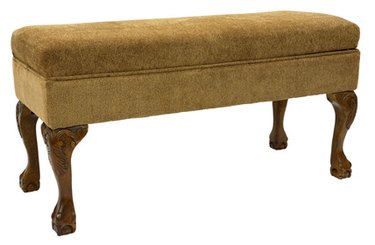 Bissell produces a variety of vacuum cleaners and carpet cleaners that are available in home retail, appliance and department stores as well as online. While designed to remove ground-in dirt from carpets, you can also use the attachments and tools to clean upholstery. The process of cleaning upholstery with a Bissell carpet cleaner is fairly simple but should only be done by an adult because of the use of electricity and hot cleaning formula.
Step 1
Examine the tag on the upholstery. If the manufacturer's tag has "W" or "WS" written on it, proceed with using the Bissell to clean. If the tag says "X," "S," or "Dry Clean Only," do not use the Bissell to clean the item because it could cause damage. Avoid using the Bissell carpet cleaner on velvet or silk.
Step 2
Take the tank out of the Bissell carpet cleaner and fill the tank with hot water. Open the formula tank and fill with Bissell cleaning solution. Set both tanks back into the cleaning cleaner.
Step 3
Turn the "Custom Clean" dial to "Normal Clean" for most upholstery surfaces or "Light Clean" for delicate items and fabrics. Turn the "Ready Tools" dial to "Attachments."
Step 4
Plug the Bissell into a power outlet and turn on the heater and power switches. Allow at least one minute for the built-in heater to warm up the cleaning solution.
Step 5
Remove the hose from the carpet cleaner and attach the cleaning tool to the end. Choose an inconspicuous area of the upholstery and squeeze the trigger on the cleaner to spray some cleaning formula on the area. Move the cleaning tool over the area to suction up the formula. Wait a few minutes to check for color steadfastness or other issues prior to proceeding to clean the rest of the upholstery.
Step 6
Spray cleaning formula over the upholstery surface and move the cleaning tool in a back and forth motion over the damp area. Repeat over the entire surface area to be cleaned.
Step 7
Turn off and unplug the carpet cleaner when finished. Return the hose to the unit, set the cleaning tool back on the vacuum and empty out the tank.