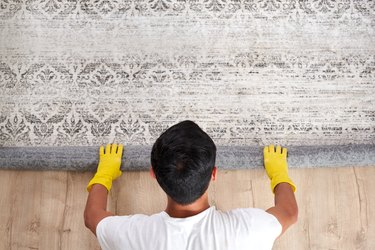 If you have a Bissell carpet cleaner, you might be wondering whether it can be used to clean your upholstery. The short answer is that it certainly can, and this is much simpler if you have the proper attachments on hand.
Bissell Carpet Cleaner Basics
The Bissell product line contains five categories of vacuums: upright, stick/cordless, robotic, canister and handheld. The robotic vacuums are designed for floors, but you can use the other ones to clean floors and upholstery. You may or may not need to use an attachment, and Bissell upholstery cleaner solution and pretreatment can be used with some of these vacuums for removing stains.
Good Housekeeping chose three Bissell vacuum cleaners for its five best carpet cleaners of 2021 list: the Bissell ProHeat 2X Revolution Pet Pro Carpet Cleaner, the Bissell CrossWave Floor and Carpet Cleaner and the Bissell Pet Stain Eraser 2003T handheld. The ProHeat 2X comes with a 3-inch tough stain tool and a 2-in-1 pet upholstery tool that can get pet hair, odors and stains out of upholstery.
Bissell Carpet Cleaner Attachments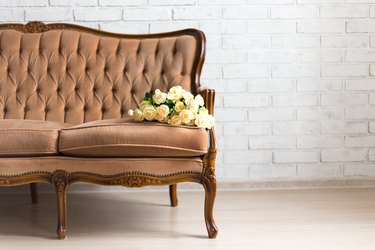 Bissell carpet cleaner attachments can also be used on ceiling fans, hard-to-reach spots like crown molding, blinds, drapes, air vents and more. The CrossWave is a cordless, multisurface wet/dry vac that uses a two-tank system to clean rugs, floors and carpets. There are not any Bissell CrossWave upholstery attachments since this vacuum operates differently.
Some experts love the Bissell ProHeat 2X Revolution Pet Pro Carpet Cleaner, which has 2-in-1 pet upholstery tools to get pet messes out of upholstery. This vacuum has three cleaning modes plus a CleanShot treater that can steam on a cleaning solution for tough stains. It is recommended for carpets, area rugs, stairs, pet beds and upholstery. If you have pets, Bissell recommends cleaning your upholstery at least once a month.
Using a Bissell Carpet Cleaner
To deep clean your carpets, begin by removing the furniture from the room. You can pretreat any areas with spot treatments following the manufacturer's directions on the label. Then, fill the clean water tank with hot tap water. Fill the second tank with Bissell upholstery cleaner solution and water (there are lines on the tank for this). As you use the vacuum, the dirty water will collect in a separate pouch.
Set the vacuum's dials according to the type of floor and type of cleaning. Then, plug in the vacuum and make a slow pass forward and backward. Change the switch and make a dry pass over the same area. Keep going back and forth until there is no more liquid being drawn into the vacuum. The cleaning formula gets worked into the carpet fibers, and the agitating brushes loosen and remove the dirt. Remove the tank when it is filled with dirty water – remove it from the base, empty it and fill it with clean water to continue.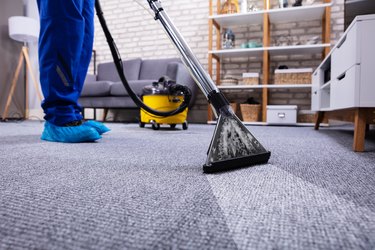 Bissell cleaning attachments can also be used on upholstery but examine the labels first. If it reads "W" or "WS," you can use it. Avoid using the cleaning solution and attachment if the label reads "dry clean only," "S" or "X." Also do not use it if the upholstery is made from silk or velvet. If you are able to use the attachment safely, switch the vacuum's dial from "floor cleaning" to "tools" and clean in the same way you would clean your carpet.