Things You'll Need
Straw hat

Hot glue gun

Glue sticks

Scissors

Ribbon

Fake flowers

Feathers

Feather boa

Fake birds, berries, etc.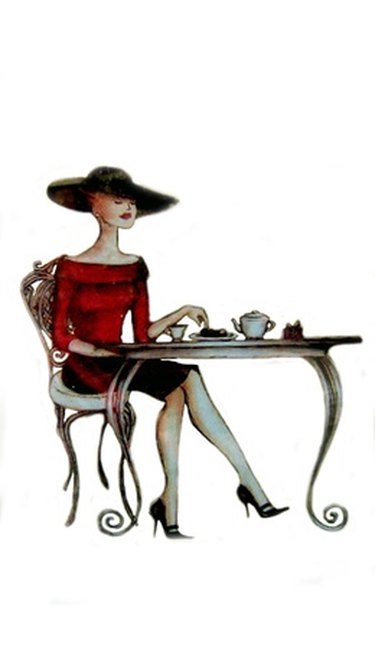 The essentials of a tea party include tea, snacks, and tea party hats. A tea party is really not complete without a hat. Whether you are partying with friends or children, a good hat can add to the fun of the event. This is not the time to be subdued with your hat-making. Tea parties are the perfect place for a hat exuding extravagance and embellishments. Straw hats can usually be found at most craft stores for an inexpensive price.
Step 1
Choose the ribbon or boa that you would like to use to go around the middle of your hat. Measure out enough ribbon or boa to go around the hat and have some additional length for a bow. Cut the ribbon or boa and tie it tightly into a bow around the middle of the hat.
Step 2
Heat the glue gun and use a few drops of glue to secure the back of the ribbon or boa to the hat. Glue the ends of flowers onto the hat where you think they look best. Add feathers tucked in and glued onto the ribbon.
Step 3
Add any other embellishments, securing them with the hot glue until the look of your hat pleases you. Allow the hat to dry overnight.
Tip
Be creative and have fun when decorating your hat.
Warning
Be careful when using a hot glue gun, as the temperatures get very high and can burn you. Do not allow a child to use a hot glue gun.