If you are working with brick for a home project, you might purchase your brick new from the manufacturer. While you can get great colors and styles in new bricks, they might not have the aesthetic for which you are looking. For example, the brick might be clean and new, but you might want a more aged look. To fit new brick into an older design project, try painting the brick to make it look a bit aged and stained.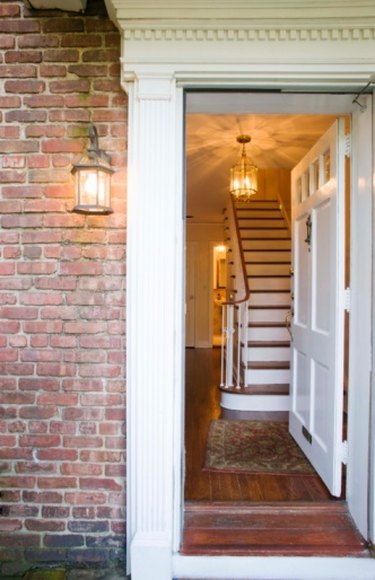 Things You'll Need
Acrylic Primer

Paintbrush

Dropcloth

Polyurethane Sealant (Optional)

All-Purpose Cleaner

Painters Tape

Thinset Paint

Round Brush
Step 1
Prepare the surface of the brick for painting. Clean the surface of the brick with an all-purpose cleaner to remove any grease or dirt that is lodged on the surface. If the brick is in a fireplace surround, clean to remove any soot baked into the brick. Use painters tape to protect any areas you do not want to get paint on, and lay out a drop cloth to catch spills and protect the flooring.
Step 2
Prime the area you want to paint. Choose a quick-dry acrylic primer to cover the surface of the brick. Apply the primer just as you would paint to the areas you want to cover. It is not important to cover the entire brick surface. In fact, applying primer to random bricks can help you achieve your aged look.
Step 3
Use a round brush to press paint into the corners of the bricks. Choose a paint that is slightly darker than the actual brick. Simply press the brush into the brick—do not drag it across the brick's surface. Do this randomly around the edges and corners of the bricks to make the brick seem stained. It is OK to collect paint around certain areas such as near the ground, where most staining would occur.
Step 4
Roll thinset paint over the surface of the bricks. This is good for covering the areas that you primed in the previous steps. This causes some of the bricks to look discolored and neglected, helping complete your desired aged effect.
Step 5
Seal your work with a polyurethane coating. This helps lock in your primer and paint. If you are painting a fireplace surround or an area that is exposed to regular extreme heat, do not seal the brick with a polyurethane-based chemical.