Things You'll Need
Meringue powder

Flavoring

Gel paste food coloring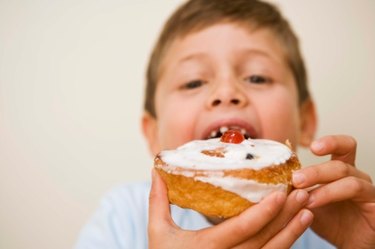 When decorating sugar cookies, you have a plethora of options to add color and character. You may add food coloring to the dough and omit icing, or you may add colored sugars to the cookie tops. If you prefer iced sugar cookies, royal icing, which is made with powdered sugar, gives you the ability to frost the cookies with a thin, smooth layer of sugary goodness or to pipe a thicker bead of icing around the edges of the cookies. Adjust the water content to achieve the desired thickness.
Step 1
Measure 4 cups powdered sugar and 3 tbsp. meringue powder into a mixing bowl. Blend them with a hand-held or stand mixer.
Step 2
Add 1/2 cup warm water to the mixing bowl, and mix on "High" until the frosting forms stiff peaks and appears extremely shiny.
Step 3
Pour 1/2 tsp. of the flavoring of your choice into the icing, and then beat just until the flavoring is blended into the mixture. Potential flavorings include vanilla, almond, lemon, maple, hazelnut or peppermint.
Step 4
Add gel paste food coloring -- available at cake decorating or craft stores -- according to the label instructions. Beat again until the color is evenly distributed throughout the icing.
Step 5
Ice cookies immediately, or pour the icing into an airtight container. Place a layer of plastic wrap directly on the surface of the icing to prevent its drying before use.
Tip
Add more water -- about 1/4 cup -- and beat until glossy if you prefer thinner icing.
For a simpler sugar cookie icing, mix 2 cups powdered sugar with milk, 1 tbsp. at a time, until you reach the desired consistency. Add food coloring to create colored icing.