Things You'll Need
Gray to white paints

Medium flat paint brushes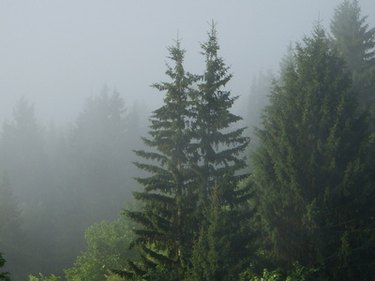 Claude Monet's Houses of Parliament, Fog Effect 1 is an impressionist style of fog painting using oil on canvas. One of Monet's more famous paintings, Houses of Parliament, reveals a blurred perspective with variations of white mixed into the colorful painting to allow for the "fog effect." Foggy artwork creates a sense of mystery. Fog paintings show different perspectives of landscapes under mists. Various paintings show fog as cloudy or blanketing the bottoms of trees. Using a photo source that shows how the fog forms, a painter recreates this effect by using lighter colors of paint and working with perspective.
Step 1
Separate the canvas with a horizon line that divides the painting into foreground and background. Sketch lightly with a pencil the design of the painting, including the figures and planes of landscape. Decide upon a direction of light.
Step 2
Paint the foreground first with high contrast and defined tones in dark colors. Use a photo of a foggy scene to recreate the color tones. Create your perspective by diminishing the vanishing point as you move to the back of the canvas.
Step 3
Diminish the color as you work to the back of the canvas using lighter grays and whites for figures in the background. Less contrast in the back shows a lower visibility and creates the misty look of fog.
Step 4
Darken the foreground areas to create shadows and highlight different aspects of your subject. Add in variations of color to texture the scene, continuing to lighten the colors towards the upper half of the canvas.
Step 5
Paint extremely light outlines of figures in the very back of the painting and wash the top half of the canvas with a medium to large flat brush with a very watery white color, using long horizontal strokes. Once finished, your painting needs high contrast at the bottom of the painting with light to no color at the very top or back.