Things You'll Need
Peppermint oil

Peppermint schnapps or crème de menthe

1/2 cup sliced peppermint leaves

1/2 cup vodka

1/2 pint resealable jar

Coffee filter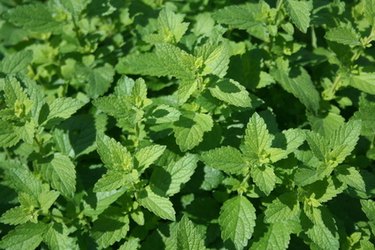 Peppermint extract is not always an easy ingredient to find. Discover your own substitute in your kitchen or grocery store baking aisle for adding to drinks or baked goods for a touch of cool, minty flavor. Making your own extract is another option, but this process requires several weeks for the mint to steep. Prepare some of this now so you will have it ready in the future.
Step 1
Replace one-fourth the amount of peppermint oil as your recipe calls for extract. For instance, if your recipe requires 1 tsp. of peppermint extract, replace it with 1/4 tsp. of peppermint oil, which is stronger. Look for peppermint oil in the baking aisle of most grocery stores. The store should stock it with the candy flavorings.
Step 2
Substitute three times more peppermint schnapps or crème de menthe as extract in the recipe. For example, if your recipe calls for 1 tsp. of peppermint extract, use 1 tbsp., which equals 3 tsp. of peppermint schnapps or crème de menthe.
Step 3
Combine the peppermint leaves and vodka in the jar. Add water to fill the jar to the top. Seal the jar and shake to combine. Let the homemade peppermint extract steep for three weeks. Strain the extract through a coffee filter and use this homemade extract as directed in recipes for peppermint extract. Store the leftover extract, tightly sealed, in the pantry for up to one year.