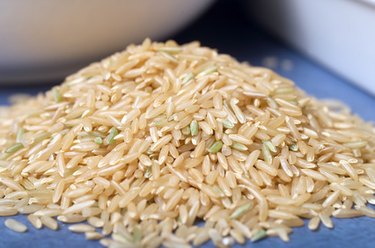 National is a brand produced by Panasonic Corporation for home appliances, including rice cookers. Panasonic ceased producing appliances in English-speaking countries under the National brand in the 1980s, but a National Rice Cooker from this time period can still be reliably used to cook delicious rice. However, instructions for this type of rice cooker may be hard to come by.
Step 1
Measure 1 cup of rice with the provided measuring cup and rinse until water comes out relatively clear. You can rinse the rice in the inner rice cooker pan.
Step 2
Add water to the rice cooker. For 1 cup of rice, fill water to the Level 1 Indicator line.
Step 3
Attach the inner lid to the outer lid and place the pan in the body of the rice cooker. Make sure that the pan is in direct contact with the heating plate by turning it slightly side to side until it settles properly. Close the outer lid and lock.
Step 4
Press the "Menu Select" key to select the type of rice you are cooking and the cooking speed desired (for example, white rice or quick cook). Press the "Start" key to begin cooking.
Step 5
When the rice is finished cooking, a buzzer will sound. Fluff the rice within half an hour of cooking by using a fork to separate the grains.
Step 6
Remove rice from the cooker. Press the "Keep Warm/Off" key and unplug the rice cooker.
Tip
Selecting the "Quick Cook" option will reduce the cooking time by about 20 minutes, but it may also leave rice a little firmer and browner than the regular cooking option.
Warning
If you do not press the "Keep Warm/Off" key before unplugging the rice cooker, it will turn on to the keep warm phase the next time you plug it back in.