Things You'll Need
Machine Embroidery:

Acrylic paint

Gel pens

Gloves

Blow dryer

Hoop

Free-motion embroidery machine

Thread

Needle suitable for elastic fabric or metallic thread

Hand Embroidery:

Water-soluble stabilizer

Scissors

Baking dish

Blow dryer

Gel pens or washable markers

Iron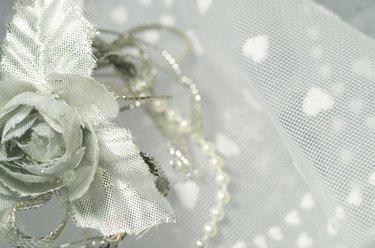 Though lightweight and delicate, tulle netting can be embroidered without damaging the fabric. Whether using a pattern that reflects the rich detailing of old world wedding veils or creating a simple design for chair back and tabletop decorations, embroidery can add dimension, color and intricate detail to any shade of tulle.
Machine Embroidery
Step 1
Paint the entire fabric using acrylic paint the same color as the tulle. Protect your hands with gloves and slowly wave a blow dryer above the fabric to help it dry.
Step 2
Draw or trace your design on the fabric using a gel pen. If the tulle is black, use a pen that is a lighter color so you will be able to clearly see the pattern lines.
Step 3
Begin to embroider the tulle using a hoop with a free-motion embroidery machine. Though any type of thread is workable, choose a needle that is made for elastic fabrics or metallic threads. Use only water when washing this fabric because soap will lift the paint off.
Crewel Method for Hand Embroidery
Step 1
Cut a water-soluble stabilizer into small pieces using a ratio of two to one. For example, if you are embroidering a wedding veil that is one yard in length, cut two yards of the stabilizer.
Step 2
Dissolve the small pieces of stabilizer in a glass baking dish that contains water. If the stabilizer appears resistant, warm it in the oven at 250 degrees Fahrenheit or less or on the stovetop at a low temperature. When the stabilizer turns to liquid, set it aside to cool.
Step 3
Place the tulle piece on a clean table and slowly pour the liquid over it, making sure to cover all of the fabric.The liquid should remain clear on the fabric; if it begins to look white, spread the liquid more evenly.
Step 4
Dry the fabric with a blow dryer, but do not hold heat on it for long periods of time. Work in short intervals instead. Wait one hour while the tulle develops into a clear plastic-like fabric, then carefully peel it away from the table. It is now ready to use.
Step 5
Sketch your design onto the fabric using water-soluble gel pens or washable markers and begin to embroider. Afterward, trim away any excess solution and hand wash the piece. Use an iron on low heat to press the item, working from the backside of your design.
Tip
Tulle is frequently used to make wedding veils, ballet skirts and decorations used to drape or cover items. While embroidered patterns and designs can certainly enhance this fabric, the project does requires patience, often taking anywhere from several hours to several days to embroider one yard of tulle.