Things You'll Need
Knife

Baking sheet

Butter

Salt

Pepper

Spoon

Brown sugar (optional)

Ground ginger (optional)

Heavy cream (optional)

Raisins or chopped nuts (optional)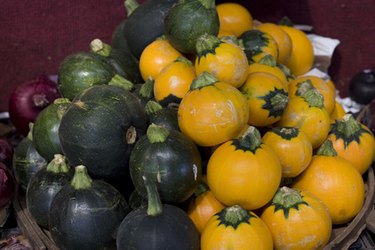 Honey Bear is an acorn squash, which is a type of winter squash. Winter squashes have hard-shelled skins and are sold from fall through early spring. Cooking acorn squash can be done in a variety of ways and eaten plain or mahed into a blend and combined with butter and other spices.
Step 1
Preheat the oven to 375 degrees Fahrenheit.
Step 2
Pierce the squash in five places with the knife and place the squash on the baking sheet.
Step 3
Place the squash in the oven for at least 45 minutes, until the flesh is tender. This may take up to 90 minutes, depending on the size of the squash.
Step 4
Remove the squash from the oven and cut it in half through the stem end.
Step 5
Scoop out the seeds and strings. Serve immediately with butter, salt and pepper, or prepare as mashed squash.
Step 6
For mashed squash, scrape the squash from the skin with a spoon and mash it. Add 1 tbsp. butter for every cup of mashed squash. For additional flavoring, add 1 tsp. brown sugar, 1/4 tsp. salt, and 1/8 tsp. ground ginger.
Step 7
Mix in warm heavy cream until there is enough to beat the mixture into a smooth puree; the amount varies, depending on how much squash you have. Sprinkle in raisins or chopped nuts and serve.