Things You'll Need
Large piece of brown felt

Marker

Scissors

Fabric glue

2-foot-long Velcro strip

Pillow stuffing

Brown leggings

Brown T-shirt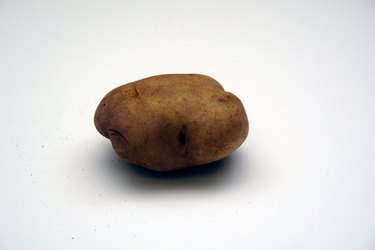 Whether you feel like dressing up as your favorite vegetable for Halloween or your child needs a potato costume for a school play, it might be difficult to find a potato outfit in a costume shop. But with a little creativity and preparation, you can make your own potato costume using some materials from a craft store.
Step 1
Fold a large piece of felt in half so you have two layers.
Step 2
Draw a large oval on the felt that is large enough to extend from your neck to your mid-thigh. The oval does not have to be perfect because potatoes are not shaped perfectly.
Step 3
Cut out both layers of the oval. The top layer will be the front of your costume and the bottom will be the back.
Step 4
Begin gluing the two sides together, leaving about a foot opening for your head. Glue the fabric together until you get to your shoulder area.
Step 5
Hold the pieces up to your body and determine where your arm holes should be. Leave that section open and continue gluing the sides of the costume together.
Step 6
Leave a space open for each of your legs, but glue the middle section together so that the stuffing can be held in place.
Step 7
Turn the costume over when it is glued together. Starting at the back neck opening of the costume, cut a slit in the felt that is about 2 feet long.
Step 8
Use your fabric glue to attach the furry side of a 2-foot long Velcro strip on the inside of the right side of the slit.
Step 9
Glue the other piece of Velcro to the outside of the opposite side of the slit. This way, you can easily step in and out of the costume and the Velcro will keep the stuffing inside.
Step 10
Put on a brown T-shirt and a pair of brown leggings.
Step 11
Put on the costume and stuff pillow stuffing into the neck hole and the arm holes until the costume stands out from your body.