Things You'll Need
Leaf

Heavy book

Small Paint brush

Hand dryer

Hot glue gun

Paper

Acrylic paint

Spray fixative

Shadow box frame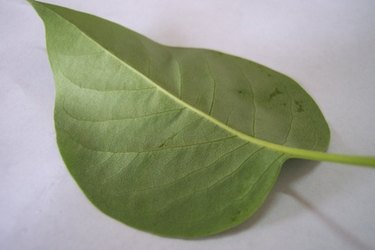 People who enjoy painting like to find creative ways to express their passion. Instead of painting on a normal canvas, painters sometimes look for unique objects to paint on. Observing nature, especially in the fall, a painter can take a simple leaf and create a stunning backdrop for a painting project. Utilizing the leaf's texture and shape, any amateur artist can fashion a fun and beautiful painting to share with others.
Step 1
Find a leaf still attached to a tree. Maple, Oak or any broad-based leaf will work well. Find a leaf that is changing colors but is not too dried out.
Step 2
Press the leaf inside a heavy book. Leave it overnight.
Step 3
Remove the leaf from the book and brush off any dust particles, pollen or debris with a dry paint brush. Blow any remaining dust off the leaf with a hand dryer on the lowest setting.
Step 4
Hot glue the front side of the leaf to a piece of paper canvas. The front side of the leaf feels smooth to the touch, while the back side features the veins and lines of the leaf.
Step 5
Paint the leaf using acrylic paint and a small paint brush. Choose colors that contrast well with the color of your leaf.
Step 6
Spray the leaf after painting with a fixative to preserve the paint. The fixative also maintains the leaf's color.
Tip
You can paint the entire leaf and then use it as a stamp by pressing the freshly painted leaf on another piece of paper. Frame your leaf painting with a shadow box frame. The box frame gives the leaf painting depth.