Crayon iron-on transfers are the perfect craft project to do with kids of all ages. Unleash their creativity on drawings of their choice and transfer the images to fabrics for T-shirts, aprons, scarves and anything else you can think of. They make the perfect personalized gifts for relatives and teachers. Not only that, but your kids get to create their own line of custom, couture kids' wear, leaving them with clothes that no one else is sporting.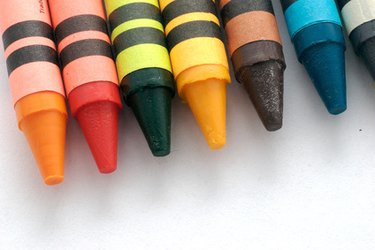 Things You'll Need
Fabric Crayons

Several Sheets Of Plain White Paper

T-Shirt Or Other Cotton Fabric

Drawing Paper

Iron

Ironing Board

Several Sheets Of Newspaper
Step 1
Have your child color a picture on plain paper using the fabric crayons. Color thoroughly and bear down a little harder than normal.
Step 2
Shake off any excess crayon bits to prevent them from transferring to the fabric along with your image.
Step 3
Stack several layers of newspaper on the ironing board to provide a cushion and top the stack with a piece of plain white paper, which will prevent any transfer of the newsprint to the fabric.
Step 4
Place the shirt on top of the stacked paper and slide another piece of plain white paper inside the shirt, under the spot where the transfer will be.
Step 5
Place the colored drawing, colored side down, onto the fabric and cover it with another sheet of white paper to prevent wax from reaching your iron.
Step 6
Set your iron on the cotton setting. Smoothly run it back and forth over the transfer, applying even pressure along the way.
Step 7
Stop ironing when the transfer becomes visible on the fabric and slowly peel the colored page away. Do not wait for the transfer to cool off, as this will cause the crayon to re-adhere to the paper and not the fabric.
Tip
Remember that the iron-on will show a reverse image from the original, so any writing needs to be drawn backward.
Finished pieces are machine washable but should be air dried.