Things You'll Need
Dried chickpeas

Colander

Pot

Baking sheets

Parchment paper

Paper towels

Olive oil

Salt

Pepper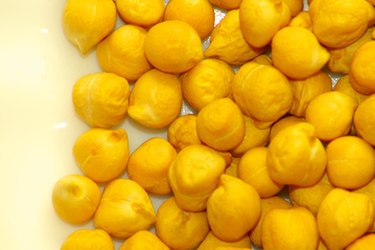 Chickpeas (also known as garbanzo beans) are a well-known food, popular for their buttery taste and used in a variety of meals and many world cuisines. This legume is low-fat and is high in protein and fiber. An easy way to prepare ready-to-eat chickpeas is to roast them in your oven. In less than one hour, you'll have a healthy and flavorful snack.
Step 1
Pour the chickpeas into the colander under running cool water. Rinse them and remove any damaged beans. Place the beans in a pot and cover completely with water. Allow the beans to soak overnight.
Step 2
Drain the chickpeas in a colander and shake off excess water. The chickpeas have a thin skin which come loose during the soaking stage. You can remove the skin or leave it on. Pour the chickpeas onto the paper towels. Pat them dry with additional paper towels. Discard any skins that have come loose onto your paper towel.
Step 3
Preheat the oven to 425 degrees. Transfer dried chickpeas to the parchment paper. Sprinkle the dried chickpeas to coat them lightly with olive oil. Place them in the oven and roast for 20 to 30 minutes.
Step 4
Check the chickpeas. Remove from the oven when the exterior of the chickpeas has turned a dark golden brown color. Allow them to cool and then sprinkle with salt and pepper.
Tip
You can experiment with a variety of seasonings to add to your chickpeas before roasting such as ground cayenne chili pepper or ground cinnamon.
Chickpeas can be stored for a week in an air-tight container.