Bee. Mouse. Police officer. It seems like every DIY Halloween costume idea these days is a dressed-up version of something boring. If you're a lady with a silly sense of humor and a penchant for the absurd—or wait until the last minute to throw a costume together—we've got the perfect, easy Halloween costume.
Do something different for your next Halloween party by dressing up like your favorite brightly colored loofah. Making a loofah costume is simple, and requires only a handful of items. Read on for our loofah Halloween costume tutorial and have a Happy Halloween!
Things You'll Need
Tulle

Scissors

Rope

T-shirt and shorts/dress and leggings

Silver glitter spray (available at many party stores)
Cut the tulle into more manageable pieces, measuring 1 or 2 yards apiece.
Crumple up the pieces of tulle to make them fluffy.
Match Your Clothes to the Tulle
Put on the shorts and T-shirt or dress and leggings, which should all match the color of the tulle.
Pin the Tulle Loosely in a Loofah-like Pattern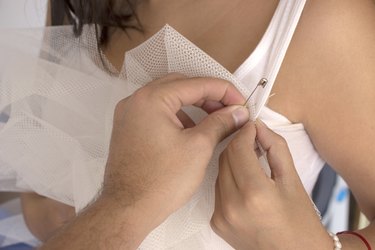 Bunch up the crumpled tulle and safety pin or stitch it to your clothing in a billowing, loofah-like pattern. Solicit help for the back.
Cut the rope into three equal pieces. Knot them together at one end, or tie them securely with a piece of thread. Braid the three pieces together.
Form the braid into a loop and pin it to your shoulder.
To make the loofah look wet, spray it all over with silver glitter spray.
Wear the costume with white shoes and a tiara, if desired.
Tip
If you are wearing the costume with a T-shirt and shorts, be sure not to pin them together (for restroom purposes).
How much tulle you'll need will depend on how large the person wearing the costume is.
With this easy DIY loofah costume, you'll be sure to stand out from the usual, boring crowd of cops and cats at your next Halloween costume party. Add a rubber ducky for bonus points.