Things You'll Need
Empty, plastic water bottle

Scissors

Small amount of sand

Fish stickers

Clear beads without holes

Quick-setting glue

Pencil

Small piece of cardboard

Brown felt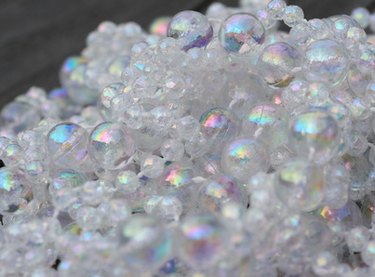 Dollhouses inspire creative play in children. Many kids enjoy playing pretend with the dollhouse figures and rearranging the furniture to fit the doll's needs. Furniture or accessories for this type of toy can be quite expensive. If your child is interested in raising fish or just wants her dollhouse to have an aquarium, you can make it quickly and inexpensively out of recycled products. Making homemade dollhouse furniture and accessories is a wise way to help your child become aware of the usefulness of recycling. It may also may spur an interest in carpentry or interior design in the future.
Step 1
Cut off the bottom of a plastic water bottle, so that it forms a bowl shape that is approximately 2 inches tall.
Step 2
Press a few miniature fish and plant stickers onto the inside back section of the water bottle bowl.
Step 3
Fill the bottom of the plastic bottle with about 1/4 or 1/2 inch of sand.
Step 4
Place a small drop of quick-setting glue onto a glass bead and press it onto the inside wall of the fish aquarium. Repeat this with 4 or 5 glass beads. This represents air bubbles.
Step 5
Trace around the bottom of the plastic bottle on the cardboard. Make two separate circles. Cut out the two circle shapes from the cardboard.
Step 6
Cut two more circle shapes out of the brown felt, using the cardboard as a template.
Step 7
Glue the brown felt onto one side of each of the cardboard circles. Attach one cardboard circle to the top of the plastic bottle and one to the bottom with the glue. Both should have the felt side facing up.This gives it the look of a wood cover for the aquarium. Set the fish aquarium into the dollhouse.
Tip
Change the type of fish and plants and make two or three aquariums for different rooms of the dollhouse.
Warning
Adults should supervise children using quick-setting glue or do this step themselves.