Things You'll Need
Felt

Velcro

Black face paint

Scissors\Craft glue

Headband

Black, brown or tan sweat suit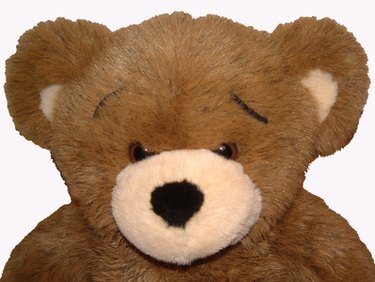 Many people today are concerned with finding budget-friendly tips. Homemade children's costumes can be quick, easy to make and inexpensive. Making your own costume guarantees it is special and unique. The clothing can continue to be used long after Halloween or the costume party is over. Another wonderful advantage is that no sewing is involved and they can be put together at the last minute. You and your child can enjoy working together and making an easy bear costume.
Step 1
Cut a simple ear pattern out of paper. Using the pattern as a template, cut four ears out of felt.
Step 2
Put two of the four felt pieces of ear together using craft glue. This makes a sturdier ear. Repeat the process with the remaining two ear pieces. You now have two solid ears to use for your bear costume. Cut two additional single ear pieces out of a much lighter or darker color of felt in a slightly smaller size than the original ear pieces. Glue one piece on the front of each of the ears you created, for the inside of the ears, which gives them a three dimensional look.
Step 3
Glue the felt ears to a headband. Choose a brown, black or tan headband or cover your headband with a piece of felt the same color as the ears.
Step 4
Paint your child's nose using back face paint. Check with your costume or craft store for brands of paint that have been developed specifically for face painting. Face paints are relatively inexpensive and you need very little.
Step 5
Cut a large oval shape using felt, in a color much lighter or darker than the main costume. You are creating the stomach area of your bear costume. The oval should be large enough to cover much of the bear costume shirt front.
Step 6
Add Velcro to the backside of the felt oval and the front of the shirt of the costume. Attach the Velcro on the oval to the Velcro on the shirt. Glue may be used as an alternative.
Step 7
Use creativity when putting together your easy bear costume. Go with scary, funny or cute. It is only limited by your imagination.
Tip
Long underwear, leggings or leotards can be substituted for the sweat suit.
Warning
Acrylic craft paints and watercolor markers are not meant for face painting. Other ingredients in the paints could be toxic, cause allergic reactions, or make it difficult to remove from the skin.