Things You'll Need
Christmas lights

Hammer

Nails

Extension cord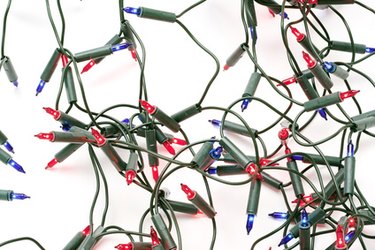 When shopping for Christmas lights, you will find boxes that are marked "indoor" and "outdoor." Both sets of lights look the same and most buyers use them interchangeably. Using outdoor lights for indoor decorations is common and safe, but precautions must be taken if you are using indoor lights to decorate outside. Outdoor lights are made to withstand wet conditions and cold weather, while indoor lights are not. Therefore, if you decorate outside using indoor lights, you must shield you lights from outdoor elements.
Step 1
Decorate the patio furniture on your covered porch. Lights inside of a screened porch will have minimal exposure to elements. Outline your patio chairs and tables with string lights and wrap hanging lights around your tabletop. Draw extra attention to your patio furniture by using flashing Christmas lights.
Step 2
Outline your home's windows with indoor lights. Most windows will have a soffit to shield them from rain and snow. Frame your windows with stationary lights and plug the lights into an indoor electrical socket.
Step 3
Place flashing lights along the wall directly underneath your gutters. Your gutters will shield your lights from the rain, sun and snow. Use a hammer and nails to secure your lights and attach the power cord to an extension cord for electricity.
Tip
Use caution when plugging in your lights and make sure that your extension cords are secure.