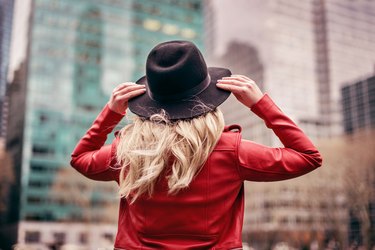 Spotted: a party planner with fond memories of CW's "Gossip Girl," which went off the air in 2012 and returned nine years later, in 2021. If you've missed Blair and Chuck, Dan and Serena, and Nate and Jenny, the privileged Upper East Side teens around whom the TV show revolved, celebrate the show's return by throwing your own "Gossip Girl" themed party. Don't bother with paper invitations; Gossip Girl herself would announce the party only through a group text message -- signed, of course, by her signature "XOXO."
If you're not lucky enough to have the Empire State Building as a background, take steps to model your party locale after a quintessential "Gossip Girl" location, such as Lily van der Woodsen's apartment. Recreate the Prada art print that hangs in the hallway on a large piece of poster board, and add red Asian-inspired pillows to your couch.
To make it a little more authentic, strategically place shopping bags with designer labels around the room so it looks as if you just returned from a luxury spending spree. Other ideas for "Gossip Girl"-locale inspiration: Chuck's hotel, with its pool table and dark, in manly colors; Blair's apartment, complete with a black-and-white checkerboard floor; or the duck pond at Central Park.
When celebrating "Gossip Girl," be sure that your guests know to dress the part -- which, of course, can be described as "Upper East Side chic." So much of the series occurred at private school Constance-Billard that you could suggest guests dress in their prep school finest, including plaid skirts and knee-highs for the girls and ties and blazers for the boys.
Alternately, hearken back to season one's masquerade ball episode by mandating formal gowns and fancy masks. The look wouldn't be complete without Blair Waldorf's signature headband; for a girl's night, offer a variety of these accessories as party favors.
You can go one of two ways with the food you serve. Choose high-end options, such as oysters Rockefeller and martinis, if you're emulating a van der Woodsen or Blair Waldorf party. Use formal place settings and let the guests assume their favorite characters' roles at a formal meal.
If you're more like the Humphreys, make a menu of down-home comfort food, such as chili, macaroni and cheese, and ice cream sundaes. Rufus Humphrey was a big fan of making waffles, so you could also choose a breakfast-for-dinner menu with waffles, eggs, bacon, sausage, hash browns and all the fixings. Serve family or buffet style so your privileged characters can turn up their noses before they dig in, because home-cooked meals are actually tasty treats, even for spoiled teens.
"Gossip Girl" was known for its unexpected twists, so set up the party entertainment in the same manner. Put on an impromptu fashion show, just like Jenny Humphrey did in season two, or create your very own "Gossip Girl" character; give one friend, the designated Gossip Girl, a juicy bit of faux gossip to spread across the party. Ask the guests to guess who started the rumor; have them write their guesses on slips of paper, drop in a punchbowl and draw them out, one at a time. Don't forget a prize for the winner of the Gossip Girl game.
Follow the show's premise: "You're nobody until you're talked about." Still, keep the gossip relatively harmless, perhaps little stories about Blair Waldorf, boyfriends or other teen drama, and make sure that everyone knows it's not real -- it's just a fun little game that you and your friends are playing.