Things You'll Need
T-shirt, new or pre-owned

Laundry detergent

Washing machine

Clothes dryer

Iron

Ironing board

Cardboard T-shirt form or cardboard cut to size of T-shirt

Safety pins

Embellishment tool for jewels, optional

Optional choices for embellishments:

Fabric paints

Glitter

Rhinestones, jewels, sequins, beads and crystals

Fabric appliques with jewels, glitter, beads or sequins

Sequin ribbon trim

Fabric glue, washable

Metallic threads

Needle and thread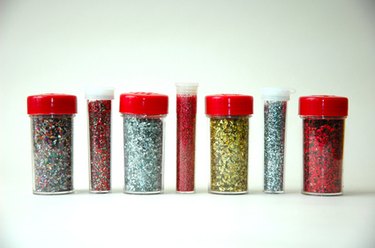 Crafts stores have a vast array of embellishments for the purpose of decorating T-shirts and other clothing items. It's easy to add bling to a T-shirt you already own or choose a new shirt from the large selection available in the same crafts store. Either way, the hardest part might be narrowing your choice of craft supplies you'd like to use to add bling to your T-shirt. So get creative, use your imagination and have fun designing your T-shirt.
Step 1
Prepare the T-shirt for decorating by washing and drying it. Don't use fabric softener. New fabric often contains water-soluble polymers called textile sizing that must be removed from a new T-shirt. A pre-owned T-shirt might contain fabric softener from the last time it was laundered. Textile sizing and fabric softener can prevent paint or fabric glue from adhering correctly. Washing and drying will cause any shrinkage of the T-shirt fabric to occur before it's decorated, so the design doesn't change after the shirt is embellished.
Step 2
Iron the T-shirt before decorating it. Wrinkles can inhibit your ability to design the T-shirt. It's difficult to paint accurately and add other embellishments over creases in the fabric.
Step 3
Stretch the T-shirt onto a cardboard form made especially for decorating shirts. Another option is to make your own form by cutting a piece of cardboard approximately 1 inch larger that the T-shirt, so the fabric will be taut, but not stretched out of shape. Use safety pins to pin the excess T-shirt fabric together behind the cardboard form to keep it out of the way and to help hold the fabric taut.
Step 4
Paint the T-shirt with fabric paint that contains glitter to add instant sparkle. Achieve the same effect with regular fabric paint and then sprinkle your choices of glitter on the paint while wet. Turn the shirt over while still on the cardboard and lightly tap the excess glitter off. Fabric paint is available in squeeze bottles and tubes and paint pens. Regular fabric paint must be applied with a brush. Paint a design freehand or use stencils to create a design on the T-shirt.
Step 5
Attach craft jewels and rhinestones to the T-shirt with glue that's recommended on the embellishment's package. Another option is to use a tool made especially for this purpose. It attaches the jewels to fabric without gluing or sewing. Add sparkle to a patterned shirt you already own by enhancing the existing design on the shirt with jewels. Examples include outlining a flower petal or landscape scene with jewels in the same color palette.
Step 6
Sew appliques onto a T-shirt that already contain sequins, glitter or jewels. You can find ready-to-attach letter appliques that can be used as monograms or to create words or phrases. There are many appliques to choose from, including flowers, butterflies, bugs, flags and peace signs. Some appliques can be glued or ironed on, but if they contain many jewels or large sequins, it's usually better to attach them with thread.
Step 7
Thread a needle with metallic thread and then use the thread to attach sequins to the T-shirt for extra sparkle. A simple design is to outline only the neckline of the T-shirt with sequins or beads. Another option is to use various colors of the metallic thread to create designs in same way as embroidery.
Step 8
Attach trim to the t-shirt that has seed pearls, sequins or other jewels already attached to the ribbon. These types of trims are usually purchased by the yard in the fabric section of craft stores. Often, hundreds of sequins or jewels are already attached to the ribbon trim and you simply sew or glue the ribbon trim onto the t-shirt. Create designs with the ribbon or use it to embellish hems or necklines.