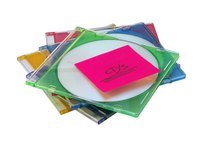 You may lose or get rid of CDs, only to find yourself with extra CD cases. You might store CDs somewhere other than in their original cases, which also leaves you with extra cases. CD cases, which are also called "jewel cases," can be used for various craft projects. When you create crafts from unwanted jewel cases, you reduce your amount of waste and you may even save yourself some money by making certain items rather than buying them.
Things You'll Need
Packing tape
Scissors
Art supplies
Construction paper
Photograph
Magnet
Hot glue gun
Pen and Pencil Holder
Open two slim CD cases and set them on their sides on a flat surface. Each case should be open at a 90-degree angle.
Bring the two cases together so that they form a cube shape.
Tape the cases together with clear packing tape on each of the two sides where they meet.
Place the cases on top of a sturdy piece of cardboard and trace around the bottom of the cases to form a square.
Cut the square out of the cardboard.
Tape the square on all four sides to the bottom of the joined CD cases to create a "floor" for the holder.
Decorate the holder with paint, stickers or permanent markers if you like and place your pens and pencils inside.
Picture Frame Magnet
Position a CD case on top of a sheet of construction paper and trace around it to form a square.
Cut the square out of the construction paper to create a matting for your picture.
Place a square picture in the center of the construction paper and glue it to the construction paper.
Open the CD case and slide the picture in where the CD liner normally goes.
Glue a magnet to the back of the case with a glue gun. Once the glue dries, you can display your picture frame on a metal surface.