Things You'll Need
Cake

Cookie cutters

Cooling rack

Baking pan

Frosting

Pastry brush

Fondant (optional)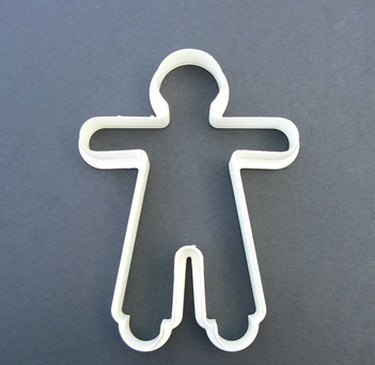 As their name may suggest, cookie cutters are most often used with roll-out cookie dough to cut festive shapes before baking. Because cake batter is much thinner and runnier than cookie dough, cookie cutters cannot be used before baking a cake in the same way that they might be used before baking a cookie. However, cookie cutters can be used for cake decorating purposes after the cake has been baked, as it will then have enough structure to hold the shape created by the cookie cutter.
Step 1
Bake your cake so that it is shorter or, at most, the height of your cookie cutter.
Step 2
Wait for your cake to cool on a cooling rack.
Step 3
Place your cookie cutter on your baked cake while it is still on the rack, at the location from which you would like to cut a shape with your cookie cutter.
Step 4
Slowly apply straight downward pressure on the cutter until it has cut through the height of the cake.
Step 5
Remove the cut-out piece of cake, along with the cookie cutter, by gently applying upward pressure on the piece from below the rack.
Step 6
Repeat these steps for any other cutout areas you would like to have on your cake.
Step 7
Frost, layer and decorate your cake as desired, first dusting off your cake with a pastry brush to remove errant crumbs.
Step 8
Turn your cake onto a cooling rack.
Step 9
Place cookie cutters on the frosted part of your cake and carefully fill the space with sprinkles or colored sugar to create a stenciled pattern on your cake.
Step 10
Remove cookie cutters carefully as not to disturb your stenciled pattern.
Tip
Metal cookie cutters will be able to create a cleaner cut in your cake than plastic or silicone cookie cutters.